Sign-up for email updates
You can now sign-up to receive email alerts for notices or changes to our website.
(we won't use your email address for anything else)
Other news feeds
St Helen's Church: Lead consultant appointed for 'Legless Knight' project
published on 10th Apr 2017
See attached press release from St Helen's church:
The Monday Players present .... See how they run
published on 5th Apr 2017
THE MONDAY PLAYERS PRESENT: SEE HOW THEY RUN
by Philip King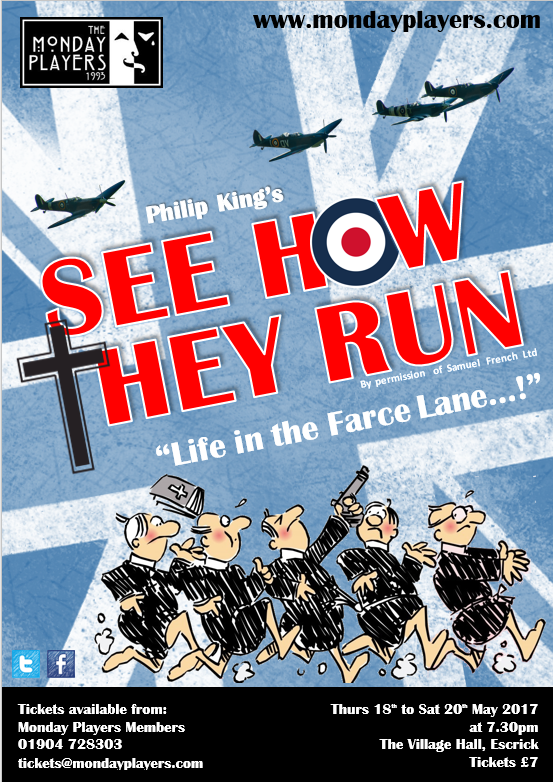 So swift is the action, so involved the situations, so rib tickling the plot in this London hit that at its finish audiences are left as exhausted from laughter as though they had run a foot race.
See How They Run is set in the idyllic village of Merton-cum-Middlewick, England during the 1940s. It's World War II, and the village inhabitants are preparing themselves for the imminent threat of Nazi invasion. Meanwhile, resident spinster, Miss Skillon, becomes convinced that her beloved vicar's actress wife is having an affair and attempts to expose her.
Add an escaped German prisoner of war, a handsome actor, the visiting Bishop of Lax, a rotund locum priest and some meddling neighbours and hilarious confusion and mayhem result.
Galloping in and out of the four doors of an English vicarage are an American actor and actress (he is now stationed in England), a cockney maid who has seen too many American movies, an old maid who "touches alcohol for the first time in her life," four men in clergyman suits presenting the problem of which is which, for disguised as one is an escaped prisoner, and a sedate Bishop aghast at all these goings on and the trumped up stories
18th, 19th and 20th May at 7.30pm
The Village Hall, Escrick
Tickets £7
Tickets available from:
Monday Players Members
01904 728303
Further details on the production are available on our website:
Election of County Councillors
published on 17th Mar 2017
Please see attached notice regarding election of County Councillors: Notice Of Election 20.03.17.pdf
>
Escrick Spring Clean this weekend
published on 2nd Mar 2017
Reminder: Escrick Spring Clean this weekend - Saturday & Sunday 2pm - 4.30pm
We are look for volunteers to give the village a spring clean - sweeping footpaths, clearing moss & leaves, picking up litter, etc
Meet at the bus shelter on Main St (opposite the club) at 2pm each day.
Rubbish sacks and litter pickers provided, but please bring your own broom / shovels / etc
Any questions please contact springclean@escrick.org
>
Champagne afternoon tea and exclusive audience with Lulu
published on 2nd Mar 2017
14:00 - 16:30 Thursday 30 March - Queen Margaret's School

The afternoon begins with a glass of Champagne prior to guests being seated for afternoon tea in St Margaret's Chapel.
At 14:30 sit back and listen to Lulu - celebrated singer, songwriter, actress, TV personality and businesswoman - as she talks about her career and showcases products from her fabulous hair and skin care range - Time Bomb.
After plates are replenished Lulu will then spend time at each table, chatting with guests answering individual queries and sharing her beauty tips.
Run in association with Fenwick York there will be a chance to purchase products on the day and benefit with £10 from the ticket price being redeemable against purchases made on the day.
Tickets cost £50 and all profits will go to the QM Foundation Bursary Fund. The event is open to all so feel free to shout about it to your friends and family.
To book your tickets please contact events@queenmargarets.com
>
Eastern Community Engagement Forum
published on 1st Mar 2017
>
Night time closure of Barlby Roundabout on Thursday 2nd March and Friday 3rd March
published on 26th Feb 2017
On the nights of Thursday 2nd March and Friday 3rd March from 8pm to 6am the roads connected by the new Barlby Roundabout will be closed. This is required to install the remaining 2 drainage crossings safely.

This includes the A19 in both directions, Market Weighton Road and York Road at the junction with the A19.
Due to the restriction of heavy goods vehicles on local roads, HGVs will be diverted via the M62, M1 and A64. Other vehicles will be diverted via local roads. The diversion route includes Skipwith Road in Escrick.
Night time closures will continue the following week to complete the surfacing and road markings.
>
Beck potential pollution reported
published on 9th Feb 2017
The Parish Council has received a complaint about potential pollution in the beck - however by the time the Parish Council was able to attend the reported pollution had gone.
Pollution concerns should be reported to the Environment Agency on their 24 hour helpline - 0800 80 70 60.
They can make a more timely response, and are responsible for any subsequent investigation.
If you are able to take photographs of the pollution and note where it appears to originate from, this may help subsequent investigations.
For reference a more general list of agencies responsible for services/amenities in Escrick is available on the Parish Council website: www.escrick.org/council/common-questions/.
>
North Yorkshire County Council's Countryside Access Service consultation
published on 9th Feb 2017
North Yorkshire County Council's Countryside Access Service is reviewing how it manages and maintains the county's public rights of way network.
They are now formally consulting the public on a new proposed approach to prioritising management and maintenance of public rights of way within North Yorkshire, excluding those managed on their behalf by The North York Moors and Yorkshire Dales National Parks.
A set of proposal documents and a consultation questionnaire is now available on the NYCC website and will be available until 19 March 2017.
The documentation is available using the following link:
Escrick Spring Clean 2017
published on 7th Feb 2017
Saturday 4th & Sunday 5th March - 2pm - 4.30pm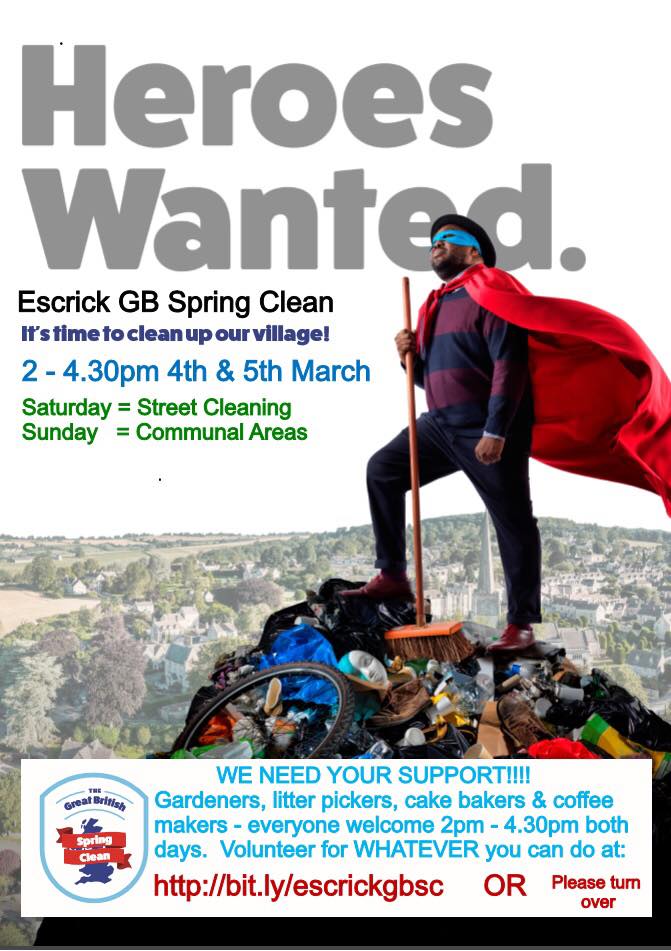 More details:
http://bit.ly/escrickgbsc
>