Sign-up for email updates
You can now sign-up to receive email alerts for notices or changes to our website.
(we won't use your email address for anything else)
Plan Selby
published on 25th Nov 2014, 07:10>
From today, you've got a chance to influence where development takes place in the Selby district between now and 2027. That's because Selby District Council is asking for views on its proposed Plan Selby. This sets out where new business and housing growth could be supported over the next decade and beyond.
The consultation on Plan Selby is the next stage of a long-running process to put in place a framework to support new business investment and to help deliver new homes.
The Council is publishing draft documents for your comments. This Initial Consultation runs from 24 November 2014 until Monday 19 January 2015. During this period documents can be viewed at Council Offices and Local Libraries during normal working hours or at one of the public consultation events being organised. The documents can also be viewed and further information found on the Selby District Council website at www.selby.gov.uk/PLANSelby
>
Heritage Lottery Fund
published on 24th Nov 2014, 19:55>
Street Lighting Upgrade
published on 25th Oct 2014, 00:00>
The Parish Council intends to upgrade the standard of street lighting for a large part of the village. The cost of doing this will require a 10 year loan which will increase the precept levied by the Council on our residents. This notice seeks your views on this course of action. The Parish Council is responsible for the cost of electricity and maintenance for the street lighting in most areas of the village, the exceptions being the housing developments in Dower Park and Chase, Carrs Meadow, Escrick Park Gardens and Woodlands which are maintained by North Yorkshire County Council.
The annual electricity bill for this lighting is approx. £2000 and is the single largest expenditure by the Council. For many years these lighting columns have required little or no maintenance apart from changing of the fluorescent tubes and fittings. However, in 2010 we began to see a series of failures in the columns themselves with one on Skipwith Road failing completely, two on The Glade showing cracking and a further concrete column in Dower Chase showing the same problem. The Council decided to ask the experts at North Yorkshire County Council to look at the problem and their report was received in September 2013.
The report stated that all of the concrete columns must be replaced as the design of these did not meet current safety standards. For the same reason, all lighting on wooden poles should be replaced. Lastly, although the steel columns were of an acceptable standard, the lanterns would be obsolete in 2015 and should be replaced with modern low energy units.
North Yorkshire County Council also provided budgetary figures for the replacement costs of both columns and lanterns. A small group of Councillors calculated the costs of carrying out these strong recommendations and the total sum is £22,750.
The Parish Council had a precept (our annual income from Selby District Council) at that time of £11,000, so clearly a loan would be required to achieve this. Fortunately, public bodies have access to very good fixed interest rate loans but the net effect is still a borrowing cost in the region off £2,500 per annum for a ten year period.
The benefits to the village would be considerable. One of the most frequent complaints we receive at the Parish Council is the poor quality of the lighting, especially in the primary routes of Main Street, Skipwith Road and Carr Lane. Modern lighting columns are LED and provide a much brighter light using 40 watts per bulb than the old style units which use 80 watts, and of course this will significantly reduce electricity consumption for these units. Parishioners can see how the new style of columns look and work by visiting Carrs Meadow as these have been replaced in the last year by North Yorkshire County Council.
Our next stage is to obtain quotations from providers of street lighting for this work. Once we have determined the actual cost we can apply for the loan and arrange for the work to be carried out which is likely to be during the course of next year.
If you have any comments to make on this scheme or any further questions, can you please email to lighting@escrick.org or write to the Clerk at 19 Dower Chase YO19 6JF before 28th October 2014 in order that we can discuss the responses at the November Parish Council meeting.
>
Public and Patient Engagement Forum
published on 16th Oct 2014, 13:23>
Tuesday 28 October 2014, 6-8pm
Be the commissioner!
In an innovative approach to involving the community in shaping decisions about local healthcare services, this event asks participants to take on the commissioning role.
You will have:
The CCG's annual budget to spend on healthcare services
a responsibility to commission good quality, safe services
a duty to comply with NHS Standing Rules, promote the NHS Constitution and deliver effectiveness and efficiency.
The forum is one of the ways that the CCG gives local patients and members of the public the opportunity to have their say and get involved.
We hope that you can join us at Priory Street Centre, Priory Street, York. To confirm your attendance please phone 01904 555 870 or email events.valeofyorkccg@nhs.net
>
Cawood Bridge closure - Oct 2014
published on 10th Oct 2014, 13:07>
TEMPORARY PROHIBITION OF VEHICLES, B1222, CAWOOD BRIDGE, CAWOOD (NOTICE NO 474)
ROAD TRAFFIC REGULATION ACT 1984 ‑ SECTION 14(2a) (AS AMENDED)
North Yorkshire County Council hereby gives notice that from 19.10.14 until 23.10.14 inclusive, no person shall cause any vehicle to proceed across B1222, Cawood Bridge, Cawood in the District of Selby due to replacement of the traffic control barriers.
The closure will be put into effect when necessary by means of the erection of notices and signs. It is envisaged that the works will be undertaken from 08:00 hrs to 20:00 hrs on 19.10.14.
Access for pedestrians to premises on or adjacent to the road or only accessible from the road will be maintained at all times.
Vehicular access to properties on or adjacent to the road or only accessible from road will be maintained.
A local alternative route will be signed.
All enquiries to: Tel: 08458 72 73 74 – Ask for Selby Highways Office
Police Reports - October 2014
published on 7th Oct 2014, 22:09>
The following information has been received from the Police recently:
Electrical goods sold from backs of vehicles
North Yorkshire Police have received a number of reports from the public about Irish travellers selling electrical items from the boots of cars or from backs of vans. Trading standards are also interested in viewing any electrical items bought from these people with a view to its safety. Please be cautious about buying any items from the backs of vehicles as the safety of the electrical items may be of concern. Please report the details, registration number, time and place etc to North Yorkshire Police on 101
Van used to steal metal
A white van, registration number NX54 SFO, is being used to steal metal in Selby district and Humberside. If this vehicle is seen please contact North Yorkshire Police on 101 giving times, date and place seen
>
Yorkshire Energy Partnership 15th October 2014
published on 5th Oct 2014, 21:23>
Yorkshire Energy Partnership, supported by Selby District Council, are hosting an event to promote renewable technologies and the recently launched Renewable Heat Incentive (RHI).
The RHI is a government incentive to help people install renewable technologies such as ground and air source heat pumps. Householders will be paid for every unit of heat energy generated for seven years after the installation. They will also benefit from reduced energy bills due to the cheaper running costs of renewable technologies, particularly in areas not served by mains gas.
The event is being held Riccall Village Institute, Riccall on Wednesday 15th October from 10:00 to 18:00. Residents are encouraged to call in to speak to reputable local installers and have a look at some of the technologies up close. There will also be an opportunity to discuss other technologies such as solar panels and home insulation.
To reserve a place at the event, call Yorkshire Energy Partnership on 01904 545 020 or e-mail advice@energypartnership.org.uk. Anyone interested in installing renewables but who is unable to attend this event is also urged to get in touch to find out more.
Recent incidents in Escrick
published on 28th Sep 2014, 15:42>
Two crime incidents were reported to the Parish Council last week.
Firstly in the church car park a car was broken into and valuables taken. It is important to note that these valuables were not visible and so the perpetrators saw where they were put prior to taking them.
Secondly, a white van with two men has been in the village pestering an elderly person for money.
Both incidents have been reported to the police.
Residents please report any suspicious activity to the police and please remain vigilant about your valuables and our village.
>
Innovative health and care services
published on 24th Sep 2014, 13:14>
You are invited to the above event hosted by the York Health and Wellbeing Board to hear about the plans and give your views on the changes that will be integral to deliver Care Hubs – the new, innovative models of care for the future.
Monday 24 November 2014, 2-4pm - Priory Street Centre, York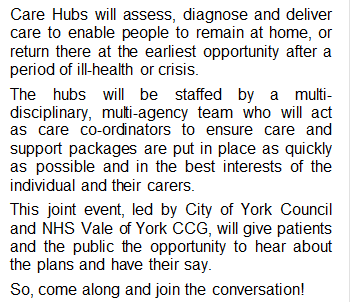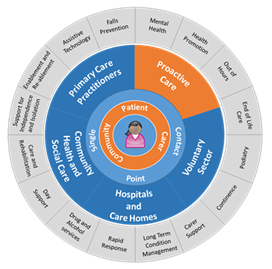 >
Notice of Temporary Speed Restriction
published on 17th Sep 2014, 21:25>
Please click here to see the notice of a temporary 40 mph speed limit restriction on the A63 Selby By-Pass
>