Sign-up for email updates
You can now sign-up to receive email alerts for notices or changes to our website.
(we won't use your email address for anything else)
Other news feeds
Theft from vehicle in Escrick
published on 9th Dec 2018
Between 16:30 and 22:30 on Saturday 8th December some items have been stolen from a vehicle parked in a restaurant's car park in Escrick.
If you have any information in relation to this incident please phone 101 and quote NYP-08122018-0571.
When leaving your vehicle police advise individuals to remove any valuables and ensure that all doors are locked and windows closed.

>
Break-in Woodlands 19-11-2018
published on 19th Nov 2018
On the afternoon of Monday 19th November there was a break-in to a house on Woodlands. The burglar(s) possibly gained access from Carr Lane.
Residents are encouraged to be vigilant and report any information that may be relevant to the police on 101.
>
Carols on the Green 2018
published on 15th Nov 2018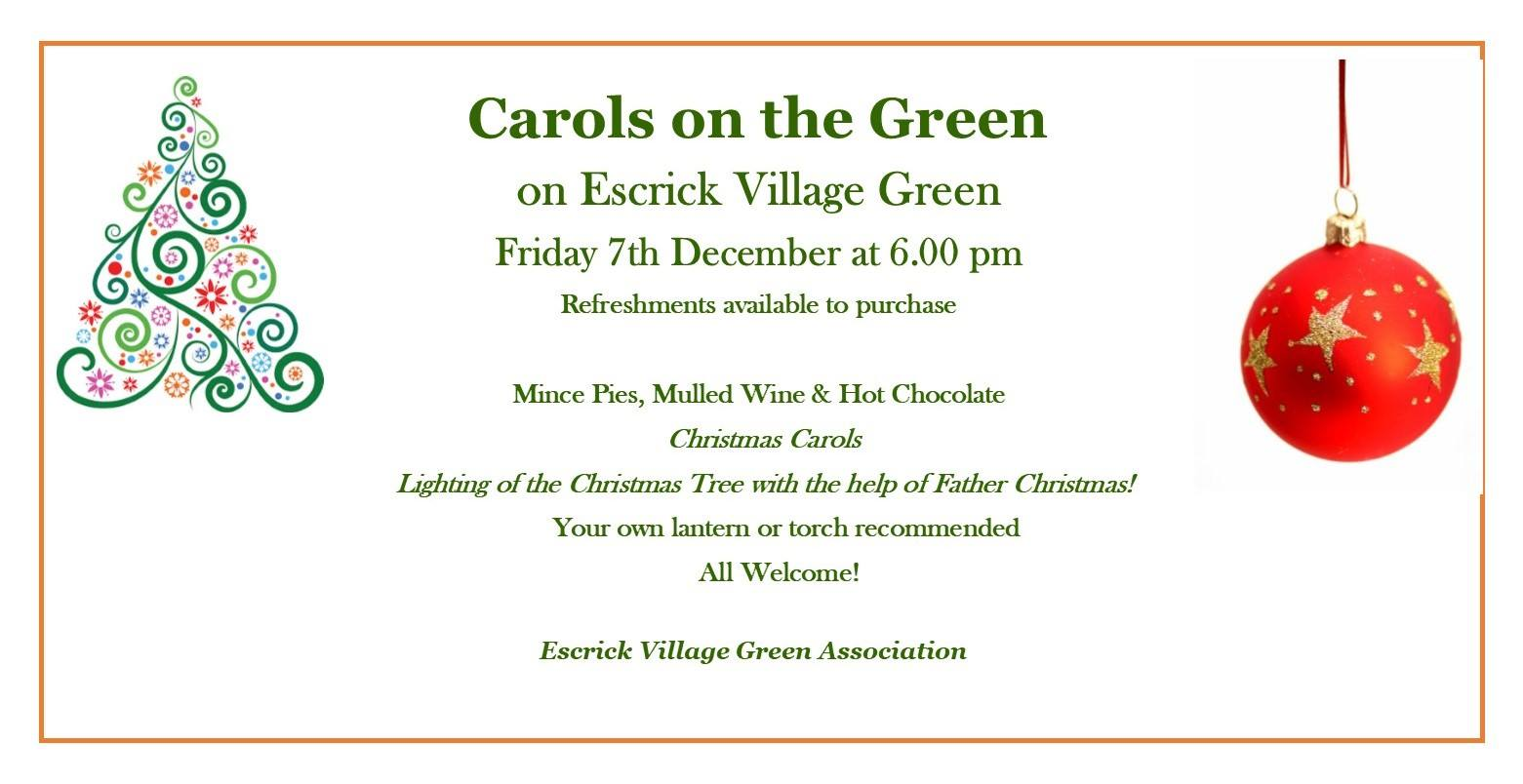 >
QM Vacancy
published on 13th Nov 2018
QM is looking for some part time admin help to work in the School, ideally someone with office and data inputting experience, to start immediately.
Hours (3 hours per day) flexible within the School day during term time only.
Anyone interested should contact the Head's PA, Claire Tonks ctonks@queenmargarets.com by 16 November.
>
Parish Council Vacancies - November 2018
published on 12th Nov 2018 (updated on 13th Nov 2018)
We now have four vacancies for Parish Councillors in Escrick.
Any adult resident of the Parish can apply to be a Parish Councillor. The main commitment is to attend the monthly Parish Council meetings (usually with a bit of background reading before), albeit there is also opportunity to get involved in other working groups if you have more time available.
The Parish Council oversees several local amenities, and makes representations on behalf of residents to other bodies. More information about the Parish Council's activities can be found on our website: https://www.escrick.org/council/about-parish-council/
If you are interested, or would like to understand more, please contact the chair (chair@escrick.org), the Clerk (clerk@escrick.org) or speak to any Councillor.
Official notice of vacancy (1 of 2)

Official Notice of Vacancy (2 of 2)

>
Break-in Carrs Meadow 07-11-2018
published on 9th Nov 2018
At around 4am on Wednesday 7th November there was a break-in to a house on Carrs Meadow.
The intruder(s) manipulated a lock to gain entry, and fled after being disturbed by the householder.
Separately, different residents had reported seeing three men acting suspiciously in the area on Tuesday - claiming to be fish sellers. It is not known if this is related.
Residents are encouraged to be vigilant and report any information that may be relevant to the police on 101.
>
CPR training 2018
published on 31st Oct 2018
If the heart of someone you loved stopped beating would you know what to do?
Every year over 30,000 cardiac arrests happen outside of hospital - often witnessed by family members and friends.
Escrick has a CPR a training kit and from time-to-time we can arrange CPR training courses for local residents. We're considering arranging another one for December or January. If you are interested, please can you email chair@escrick.org so that we have an idea of numbers, and can contact you when we have fixed a date.
---
Remember Escrick has a public access defibrillator, located outside Escrick & Deighton Club on Main St.
You don't need training to use it.
It is simple and safe. The machine gives clear spoken instructions. If you are still not confident using it, the 999 emergency operator can also help you. More details https://www.escrick.org/council/defibrillator/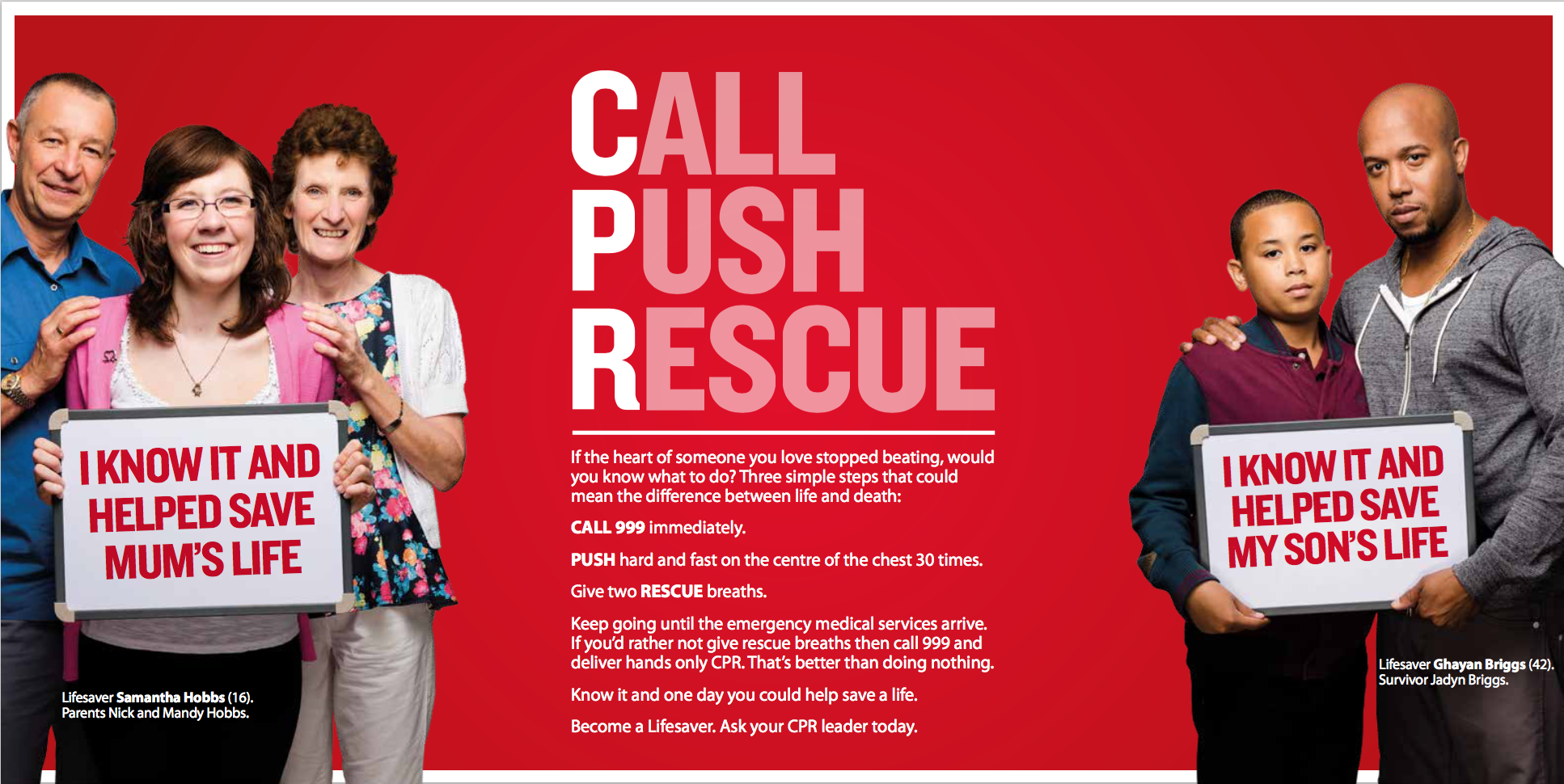 >
Police and Crime Commissioner Surgery
published on 31st Oct 2018
Please see poster below the the Police & Crime Commissioner regarding an advice surgery she is holding in Selby – (Appointment only)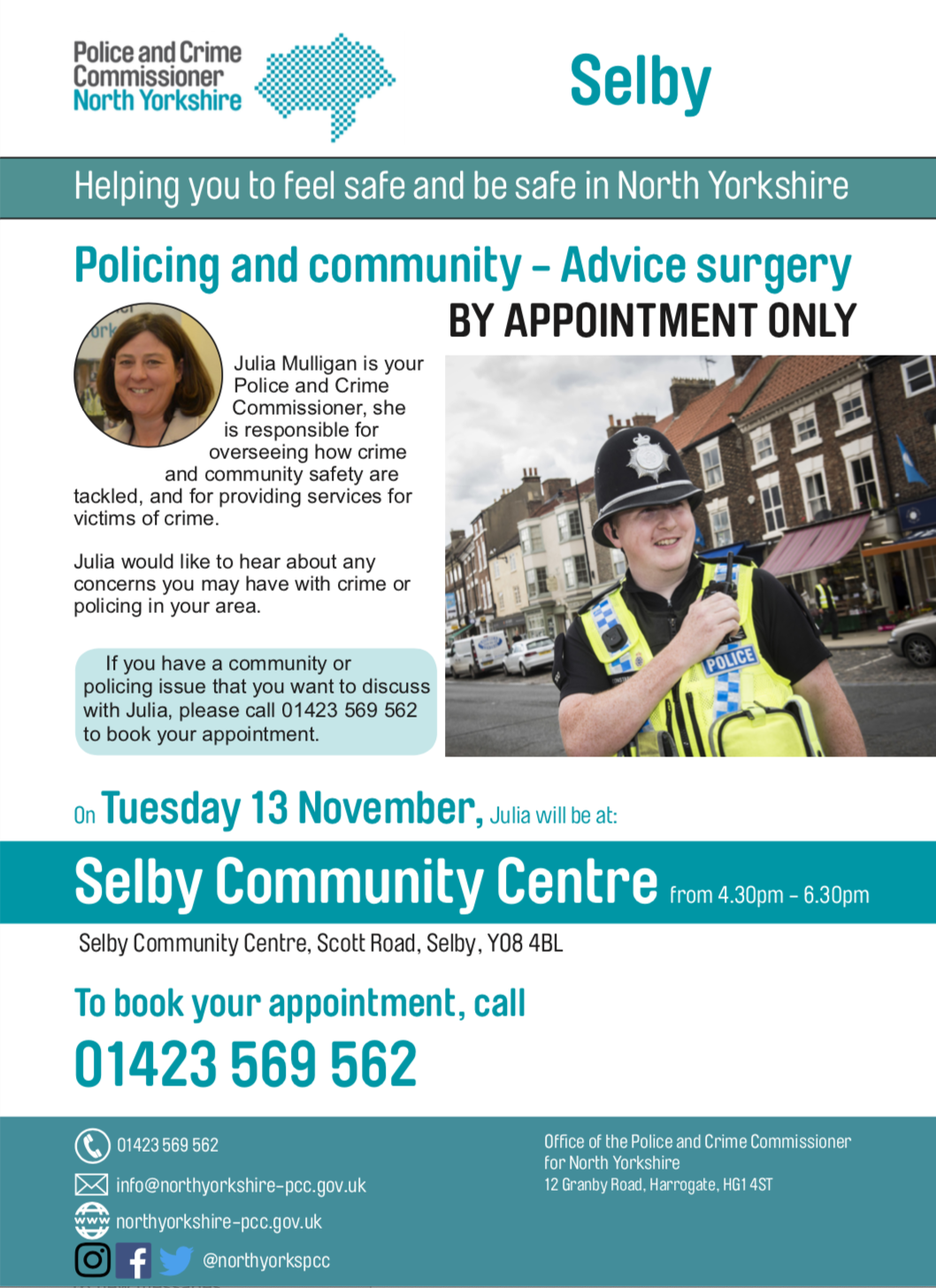 >
Halloween, Bonfire night, Diwali
published on 26th Oct 2018
Halloween
Many children enjoy taking part in 'trick or treat' activities on Halloween (Wednesday 31st October), and many residents gladly take part sharing treats. However, not everyone welcomes visitors, including those trying to get small children to sleep, or those who find answering the door difficult.
The general etiquette is that those households willing to partake leave a pumpkin on prominent display, and those that would rather be left in peace don't. Please consider this etiquette if taking part.
More advice is available from North Yorkshire Police website: https://northyorkshire.police.uk/halloween/
Bonfire night
Bonfire night (5th Nov) falls on a Monday this year, and it is likely that some residents will let off fireworks on Friday 2nd, Saturday 3rd, and Monday 5th November. Those residents with pets may wish to keep them indoors on these dates. (NB: There is no display at Queen Margaret's this year, due to half-term).
We are aware that some residents object to private firework displays - but there is no requirement for them to be pre-notified, and (providing they are undertaken lawfully) no ability for the Parish Council to prevent them. It might be considered good manners, however, to let your neighbours know in advance if you are planning a display, particularly if they have pets. See https://www.escrick.org/village/fireworks/ for details of our notification service.
There is more detail regarding the law around fireworks on the Government website: https://www.gov.uk/fireworks-the-law and police website: https://www.askthe.police.uk/content/Q625.htm
Diwali
This year the main Diwali celebrations fall on Wednesday 7th November - and it is likely that some residents will celebrate with fireworks (which are legally permitted until 1am on Diwali). Those residents with pets may wish to keep them indoors.
There is more detail regarding the law around fireworks on the Government website: https://www.gov.uk/fireworks-the-law and police website: https://www.askthe.police.uk/content/Q625.htm
>
Plasmor Public Exhibition
published on 20th Oct 2018
Please see notice below received from Plasmor, regarding a public exhibition of their proposed plans to be held on Saturday 17th November: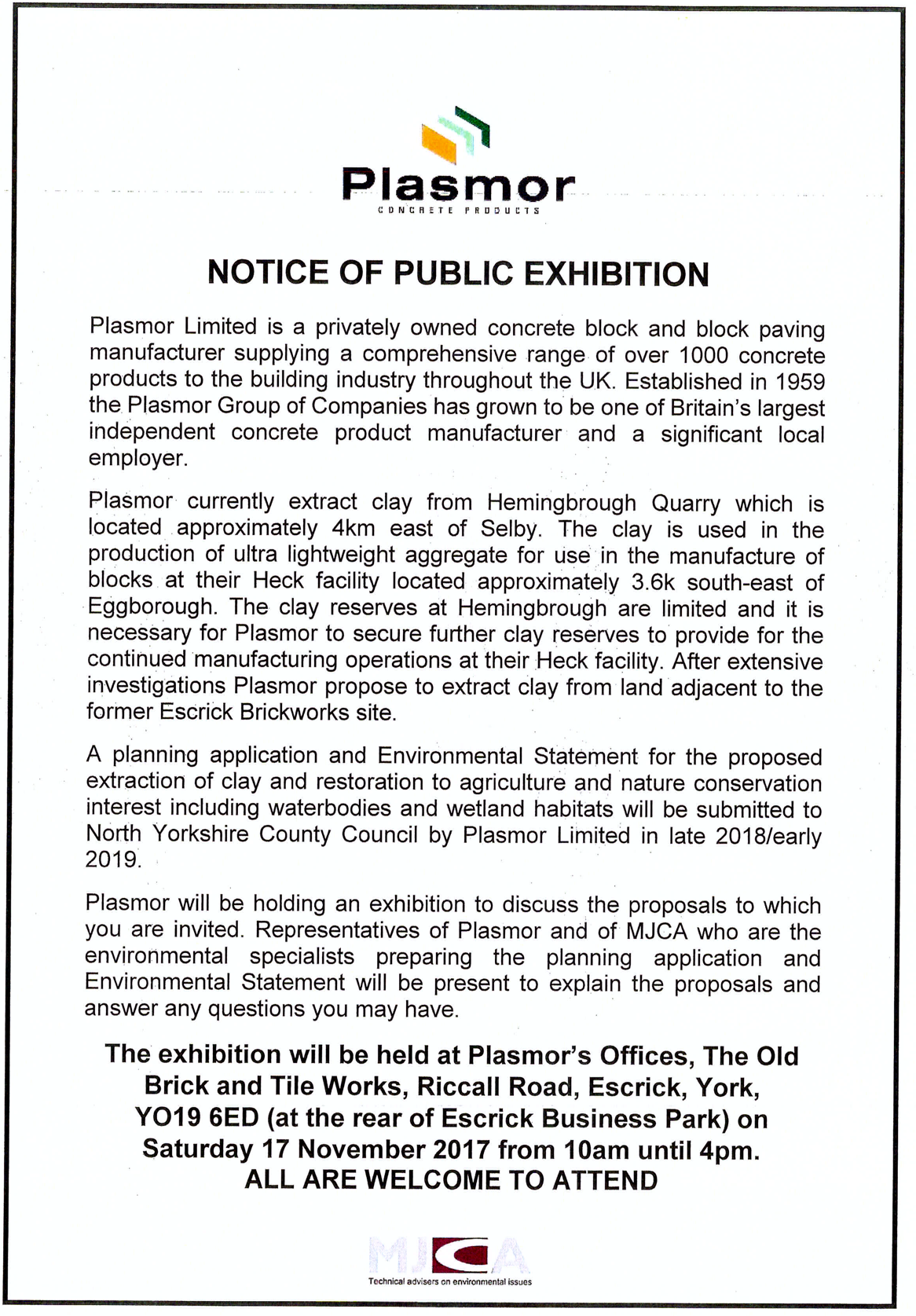 >