Sign-up for email updates
You can now sign-up to receive email alerts for notices or changes to our website.
(we won't use your email address for anything else)
Other news feeds
Cold Calling Stickers
published on 16th Apr 2018
In response to recent concerns from residents regarding cold-callers knocking at doors in Escrick, the Parish Council has discussed the options available to it.
It was agreed that the most pragmatic approach is to supply concerned residents with window stickers to display at their doors. It is illegal for uninvited traders to call at properties displaying one of these stickers.
If you would like a sticker, please send an email with your address to chair@escrick.org and we will deliver a sticker within the next week or two.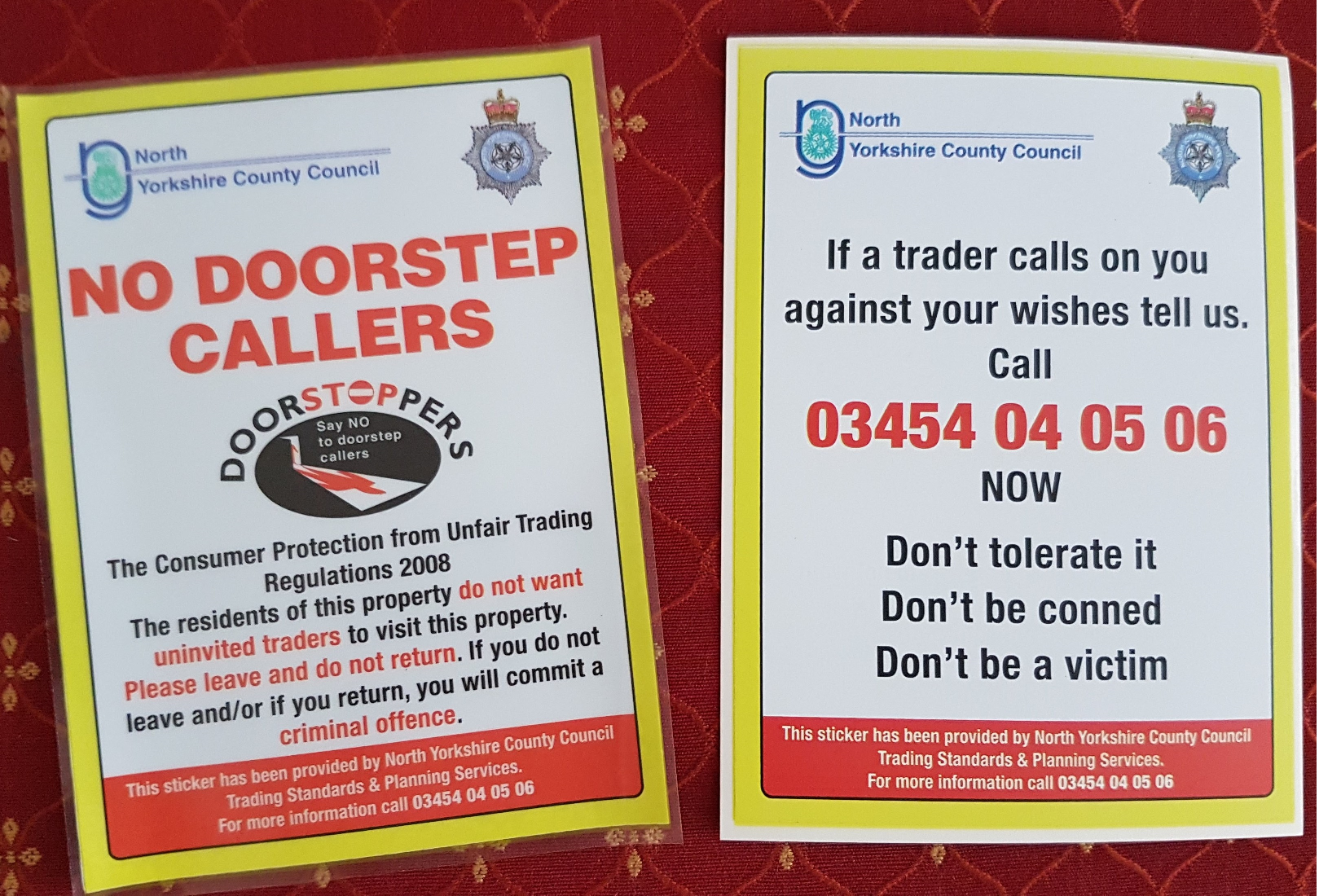 >
Monday Players - How the vote was won
published on 10th Apr 2018
HOW THE VOTE WAS WON
A cabaret evening of original plays, verses and songs to celebrate the centenary of women getting the vote (some of them, anyway!).
Many plays were written by suffrage campaigners and their supporters to highlight the arguments for and against giving women the vote. They were performed at rallies and other public meetings, primarily to entertain and encourage those who already supported the cause. Most were not written by professional playwrights and they are not necessarily literary masterpieces. Their power lies in their subject matter, not in the quality of the writing.
The Monday Players decided that the centenary of (some) women getting the vote in February 1918 was a historic moment well worth commemorating and celebrating in its own right. But women's suffrage campaigners wanted the vote, not just as a matter of principle, but because of the ability it would give women to put pressure on politicians to address other issues where women were badly treated. These included double standards in sexual matters and unequal pay. Recent stories of the abuse of women by men in positions of power over them, and of the persistence of unequal pay, demonstrate the continuing relevance of the battle that reached a milestone, but not a conclusion, one hundred years ago...
17th, 18th and 19th May 2018 at 7.30pm
The Village Hall, Escrick
Tickets £8 - including 'nibbles and treats'
There will be a CASH BAR available during the evening
Tickets available from:
Monday Players Members
01904 728303
tickets@mondayplayers.com
Further details on the production are available on our website: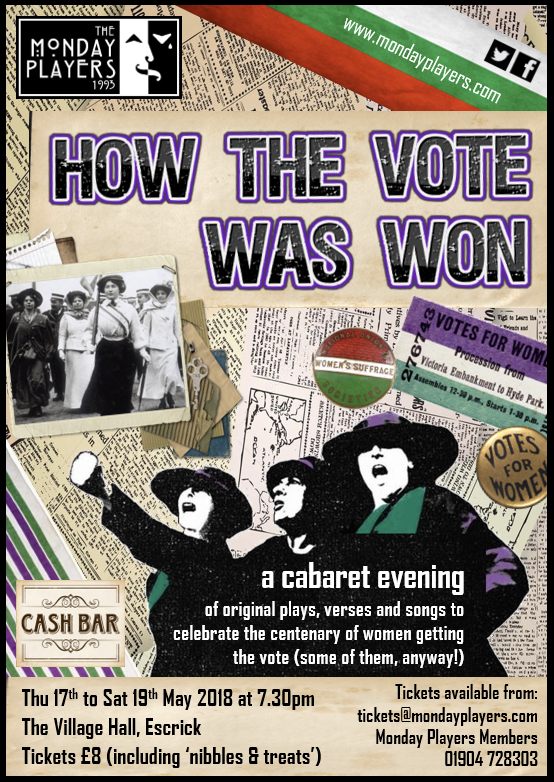 >
Dinner on the Green 2018
published on 26th Mar 2018
Dinner on the Green 2018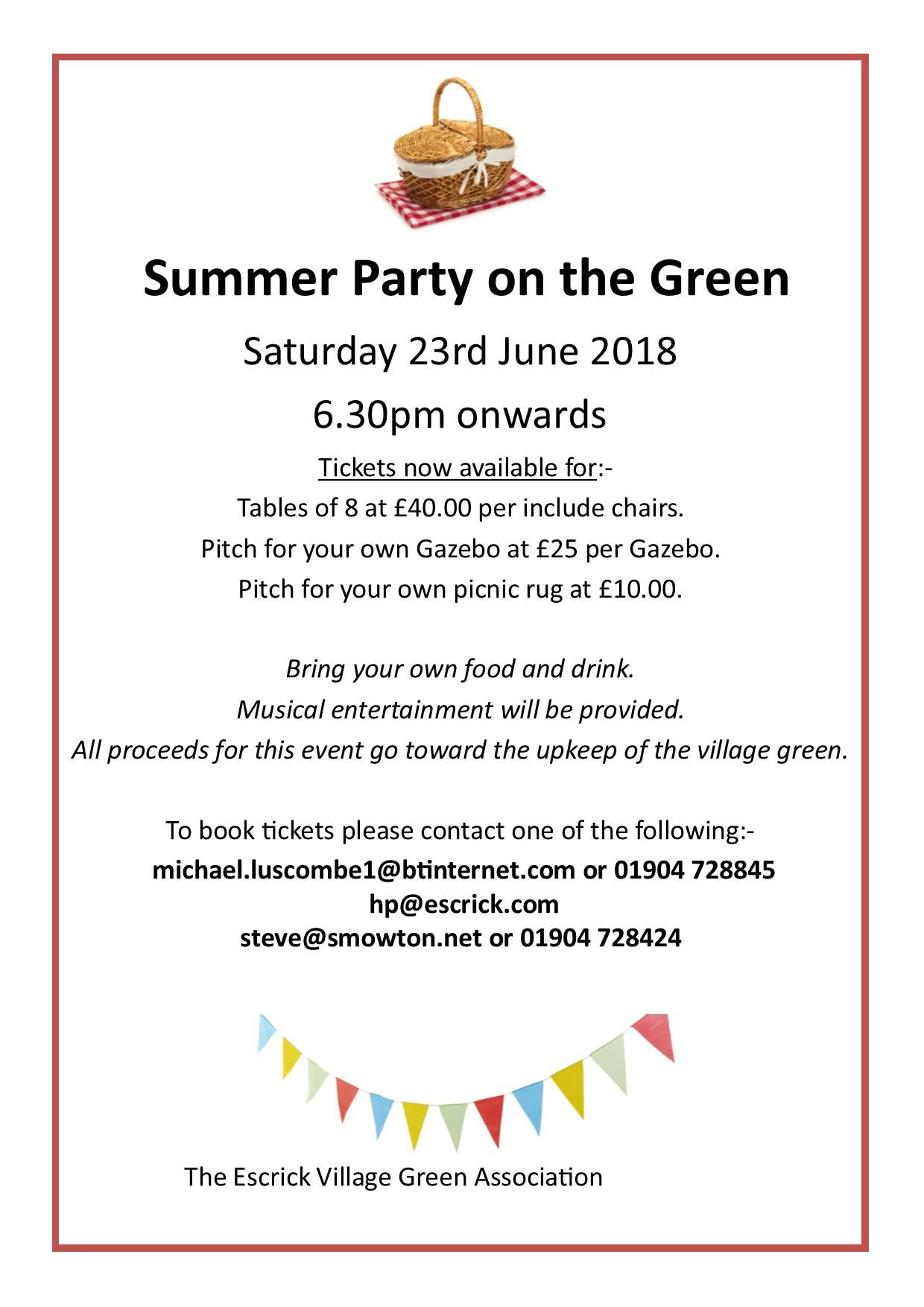 >
Escrick Park Events 2018
published on 26th Mar 2018
Please note that Escrick Park will be hosting two large events this year as follows:
Yorkshire Pudding Rally - Magic Action Group Motorcycle Rally
Weekend 3rd - 5th August 2018
This is a ticket only event and music will be playing until midnight on the 3rd and 4th August
Field of Dreams - Volkswagen camper van weekend
Weekend 31st August - 2nd September 2018
This event will be open to the general public as well as booked ticket holders camping over the weekend.
Organisers of both events have applied for all necessary documentation from Selby District Council, Highways and NY Police.
>
Parish Magazine update - March 2018
published on 1st Mar 2018
The following appeared in March's Parish Magazine:
Escrick Parish Council update
Maintenance working group - The Parish Council has established a small working group to help resolve maintenance issues in public areas - either by reporting to the responsible body, or arranging to have the work undertaken if the Parish Council is responsible.
The Parish Council would welcome hearing from anyone interested in being contracted to undertake ad-hoc work (e.g. sweeping of footpaths, trimming bushes, etc). Please contact the chair (details below). The work is likely to generally consist of ad-hoc jobs of an hour or two in nature.
Tree & pond - Tree pruning is being undertaken on behalf of the Parish Council on The Glade, Main St and the playing fields during February and early March. The pond is being relined, and access to the surrounding area is prohibited until the work is complete.
Hedges & pavements - We continue to get complaints about hedges encroaching and overhanging pavements. Please can we politely remind residents that it is their responsibility to keep hedges trimmed and clear of pavements - and consider if pruning might be in order before the nesting season starts in earnest.
Spring clean - No spring clean is planned for 2018 due to limited turn-out at recent events.
Grit bins - The Parish Council considered a request for additional grit bins, and decided not to increase the number of grit bins. The existing bins cover areas of high footfall to public amenities such as the school and village hall. Councillors were concerned about creating a precedence of providing grit bins for all parts of the Parish which could be costly.
Street lighting - An additional light has been installed on the A19 by the business park to assist bus-stop users. At the time of writing this is awaiting Northern Powergrid to finish the supply connection. Thank you to the local residents for trimming of the adjacent tree/bushes to allow the light to be more effective.
Minerals and waste - The Council continues to monitor the situation with regard to the proposed waste sorting plant at Stillingfleet, and proposed quarry west of the A19. At the time of writing there has been no significant change on either proposal.
Vacancies - We currently have two vacancies for Parish Councillors. This is a good opportunity to represent residents and have your input into where the Parish Council focuses its efforts and how it spends its budget. If you might be interested, and would like to learn more about the role, you're welcome to chat to existing Councillors or the Chair (details below).
Parish Council meeting dates: No ordinary meeting in March - a brief Finance & Admin meeting will be held instead. Future ordinary meetings: Monday 9th April, 14th May, 4th June, 2nd July. All meetings at 7.30pm at Escrick & Deighton Club. Public welcome.
Contact: Chair (Richard Rowson), chair@escrick.org; Clerk (Helen Guest), clerk@escrick.org; Website: escrick.org
>
NOTICE TO TEA SHOP CUSTOMERS
published on 26th Feb 2018
ESCRICK TEA SHOP WILL BE CLOSED FOR THREE WEEKS ON WEDNESDAY 14th 21st & 28th FEBRUARY AS A NEW KITCHEN IS BEING INSTALLED IN THE CLUB.
AS FROM WEDNESDAY 7th MARCH WE SHALL BE HAVING THE TEA SHOP IN THE VILLAGE HALL FROM 1.30 pm to 3.15 pm ON WEDNESDAYS UNTIL FURTHER NOTICE
WE APOLOGISE FOR ANY INCONVENIENCE THIS MAY CAUSE AND LOOK FORWARD TO WELCOMING YOU BACK.
>
Queen Margaret's Fizz and Fashion event
published on 9th Feb 2018
Tickets are on sale for our QM Fizz & Fashion event at Fenwick York on Thursday 8 March when the store will be throwing open its doors exclusively for the QM family and guests.

The evening will start from 18:15 with a glass of fizz and canapés on arrival. At 18:45 guests will be shown to the Designer Floor for a fashion show with QM Sixth Form girls modelling the Spring Collection accompanied by a commentary providing plenty of hints and tips on how to wear the latest looks.
After clothes, it's all about the make-up. The team from MAC will be offering mini makeovers showing the secrets of creating flawless, glowing skin, defined brows, smokey eyes, luscious lips and more.
The Fenwick team will be on hand to offer personal styling tips and with the entire fashion and make-up departments being open it will be perfect opportunity for a leisurely shop without the crowds. The evening is expected to finish by 21:30.
Tickets for this exclusive event cost £30 with £10 being redeemable against purchases made on the night. The remaining proceeds will go to the QM Head's Annual Fund. All guests will also receive a Fenwick goody bag.
To book tickets please email events@queenmargarets.com.
>
Community Transport service
published on 6th Feb 2018
As you may be aware, Selby District AVS has been running a Community Transport service for many years. There are two dimensions to this service; a volunteer car driver scheme and a minibus hire scheme. The purpose of this consultation is to ensure that Community Transport is providing a first-class service and responding to the needs of our customers. We are keen to hear from existing and potential car and minibus hire scheme clients and welcome any feedback you have so that we can continually improve and develop our service.
The questionnaire will take less than 5 minutes and can either be completed online here:www.surveymonkey.co.uk/r/AVSCommTransport2018 or you can complete the attached and return by email to bryony@selbydistrictavs.org.uk.
Please also find attached a leaflet about the minibus hire scheme, which is open to voluntary, charitable and community organisations across Selby District. If you have any questions about Community Transport or this consultation, please feel free to contact Community House on the phone number below.
Thank you in advance for your time and feedback.
Selby District AVS Community Transport Consultation Final Clients.doc
Tadcaster and Rural Community Interest Company
published on 1st Feb 2018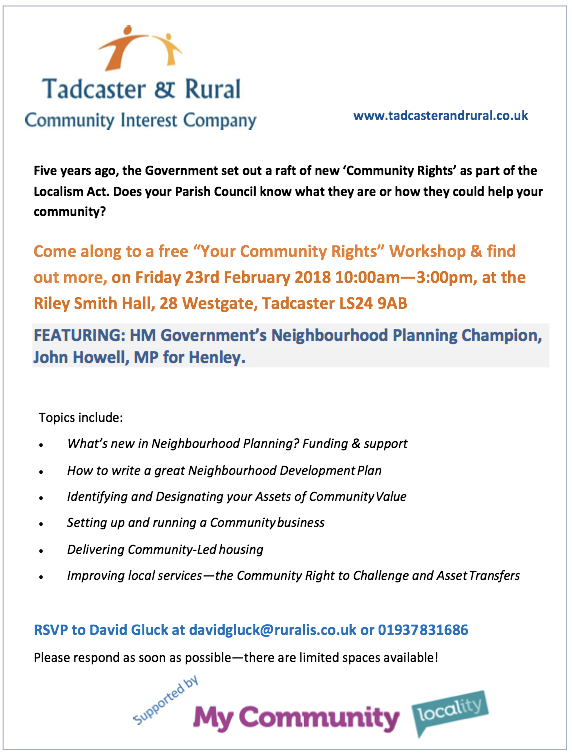 >
40s Concert Night - Brayton
published on 1st Feb 2018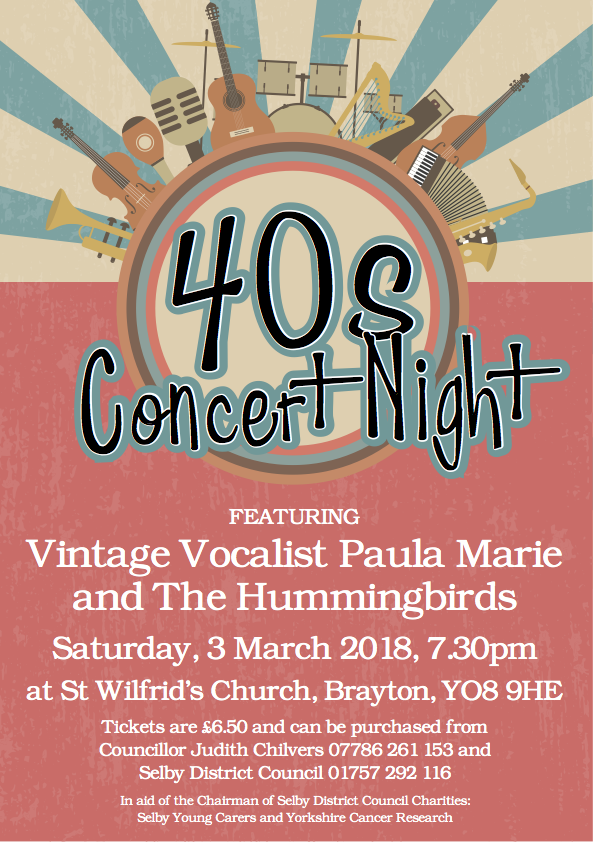 >