Sign-up for email updates
You can now sign-up to receive email alerts for notices or changes to our website.
(we won't use your email address for anything else)
Other news feeds
Escrick Parish Council to develop a Neighbourhood Development Plan
published on 13th Sep 2017
Escrick Parish Council has decided to produce a Neighbourhood Development Plan.
Selby District Council as the local planning authority have opened a consultation on the application.
Please see our dedicated Neighbourhood Development Plan page for more details.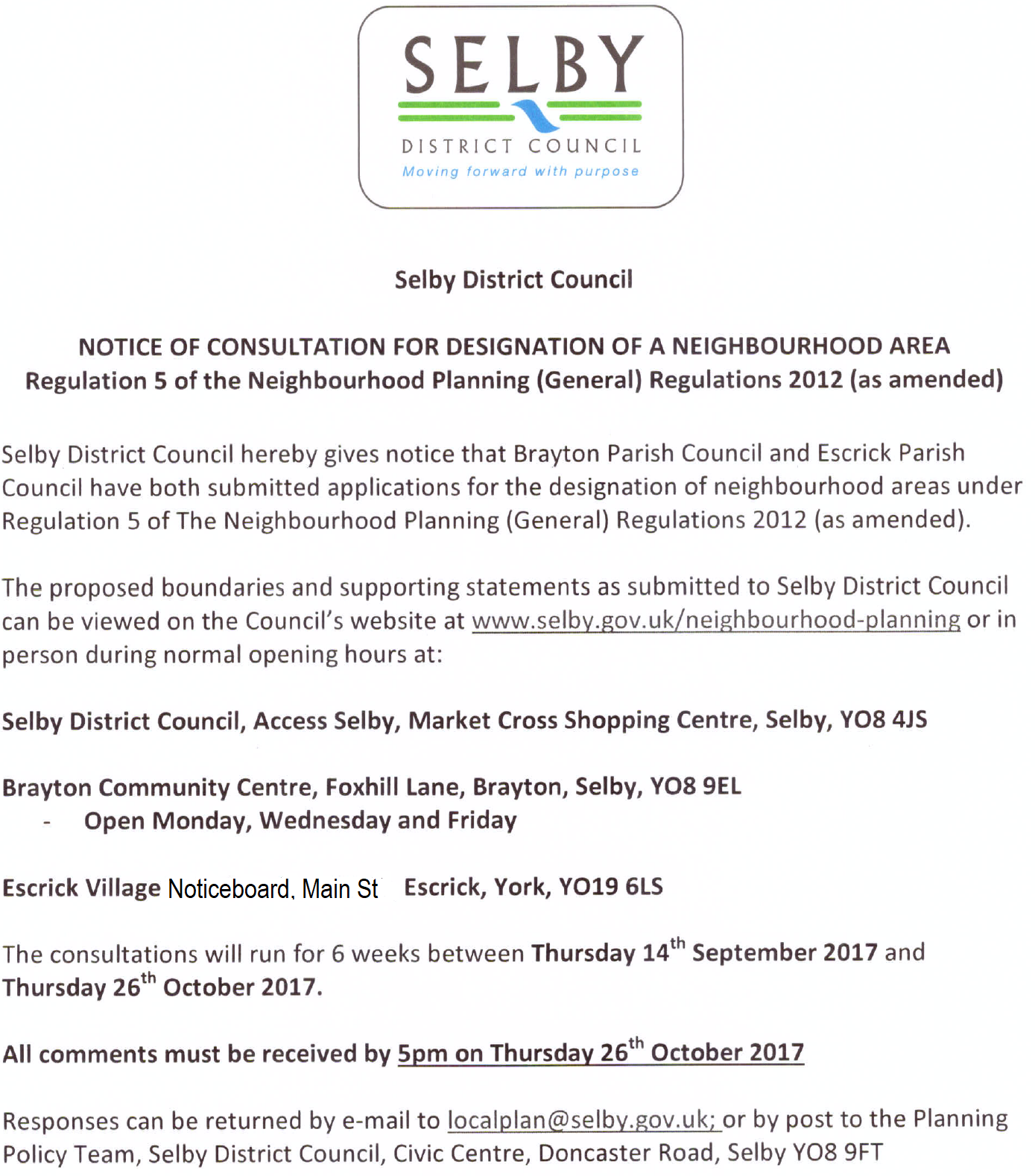 >
Parish Magazine update - September 2017
published on 1st Sep 2017 (updated on 7th Oct 2017)
The following update will appear in September's Parish Magazine
Parish Councillor vacancy: We still have a vacancy for a Parish Councillor - if anyone is interested, or would like to learn more about the role, please contact the Chair or Clerk (details below).

A19 safety: Cllr Musgrave (County Councillor) reported that he had had several meetings with highways, and that the preferred solution would be to install traffic lights at the Skipwith Rd/A19 junction - the key issue is finding funding for the scheme.

Quarry proposal: The Parish Council have accepted an invite for a site visit to Plasmor to understand more about their plans for the proposed site west of the A19.

Village maintenance: A dog waste bin has been installed on the footpath by the beck on Skipwith Road. Following the success of the "Spring Clean" earlier in the year, the PC will coordinate an "Autumn Clean" on Saturday 11th November in the afternoon. Hold the date, more details next month - many volunteers welcomed!
>
Selby bypass closure 2017
published on 3rd Aug 2017
Work on the final phase of the reconstruction of Selby bypass is due to start next Wednesday. This will complete a three-phase scheme by North Yorkshire County Council carried out over the past three years to ensure the town has the bypass it needs to support its economic future.
Work is scheduled to begin on Wednesday, 9 August. The anticipated completion date is 13 October. NYCC will look at the possibility of extended working, such as night working, to shorten the timescale.
Advanced notice signs will advise motorists of the area of closure, and the diversion routes around the works will be clearly signed.
For more information please visit www.northyorks.gov.uk/selby-bypass .
>
Parish Magazine update - August 2017
published on 1st Aug 2017 (updated on 7th Oct 2017)
The following update will appear in August's Parish Magazine
Parish Councillor vacancy: We have a vacancy for a Parish Councillor - if anyone is interested, or would like to learn more about the role, please contact the Chair or Clerk (details below).

A19 safety: NYCC have surveyed the location to evaluate installation of a puffin crossing, but advise that there is insufficient distance from the junction. The County Councillor is exploring options with the highways team and will report back to us.

Pavements: Residents are reminded to try to keep pavements clear for pedestrians, wheelchairs users and parents with pushchairs. In particular please avoid parking on pavements, please try to keep hedges trimmed, and please place bins/recycling crates to minimise obstruction.

Excavation of clay: The Parish Council would like to make residents aware of a recent planning application to expand clay mining west of the A19, and build a new access road to the B1222. The Parish Council will be objecting to the proposal ( http://escrick.org/~/340 )

Street lighting: The Parish Council has ordered an additional light for each of Main St and Carr Lane to address dark spots reported by residents. Plans for a streetlight on the A19 by the business park are being reviewed, as the business park and its tenants were unwilling to cover the cost of installing a light at this location. One of the street lamps on Skipwith Road will be temporarily out of service to allow for changes to the electricity supply.

Village maintenance: The Parish Council agreed to put on hold plans to recruit a "lengthsman", as recent voluntary initiatives have been quite successful. The Parish Council has agreed to procure a dog waste bin for the footpath alongside the beck, which the Escrick Estate have kindly offered to empty. Plans for tree maintenance will be brought to September's meeting. The Parish Council expresses its gratitude to the group of residents that have kindly taken on the planting and maintaining of flowers by the village signs.

Neighbourhood development plan: Preparatory work is ongoing, and work is expected to begin in earnest on this in the Autumn.
>
Minerals and Waste Joint Plan – consultation upon Proposed Changes to the Publication Draft Plan
published on 21st Jul 2017 (updated on 22nd Jul 2017)
From North Yorkshire County Council:
North Yorkshire County Council, City of York Council and the North York Moors National Park Authority are working together to produce a Minerals and Waste Joint Plan covering all three planning authority areas. When finalised the new Joint Plan will help the three authorities take decisions on planning applications for minerals and waste development up to 31 December 2030. A number of public consultations have already taken place to help develop the new Plan, including a 'Preferred Options' consultation in 2015 and a Publication Draft Plan in November 2016.

Following the consideration of the representations received regarding the Publication Draft Plan a number of Proposed Changes have been identified. As a result, these changes are being presented for representations relating to legal compliance and soundness.
The period for representations commences on Wednesday 12th July 2017 and will close on Wednesday 6th September 2017. All responses must be received by 5pm on 6th September 2017.
The Addendum of Proposed Changes and supporting documents are available to view on the Joint Plan Website:www.northyorks.gov.uk/mwconsult .
From Escrick Parish Council:
We appreciate that there is some local confusion regarding the various plans, consultations, and planning applications. To help put this in context - in summary:
>
Escrick Park - summer events
published on 13th Jul 2017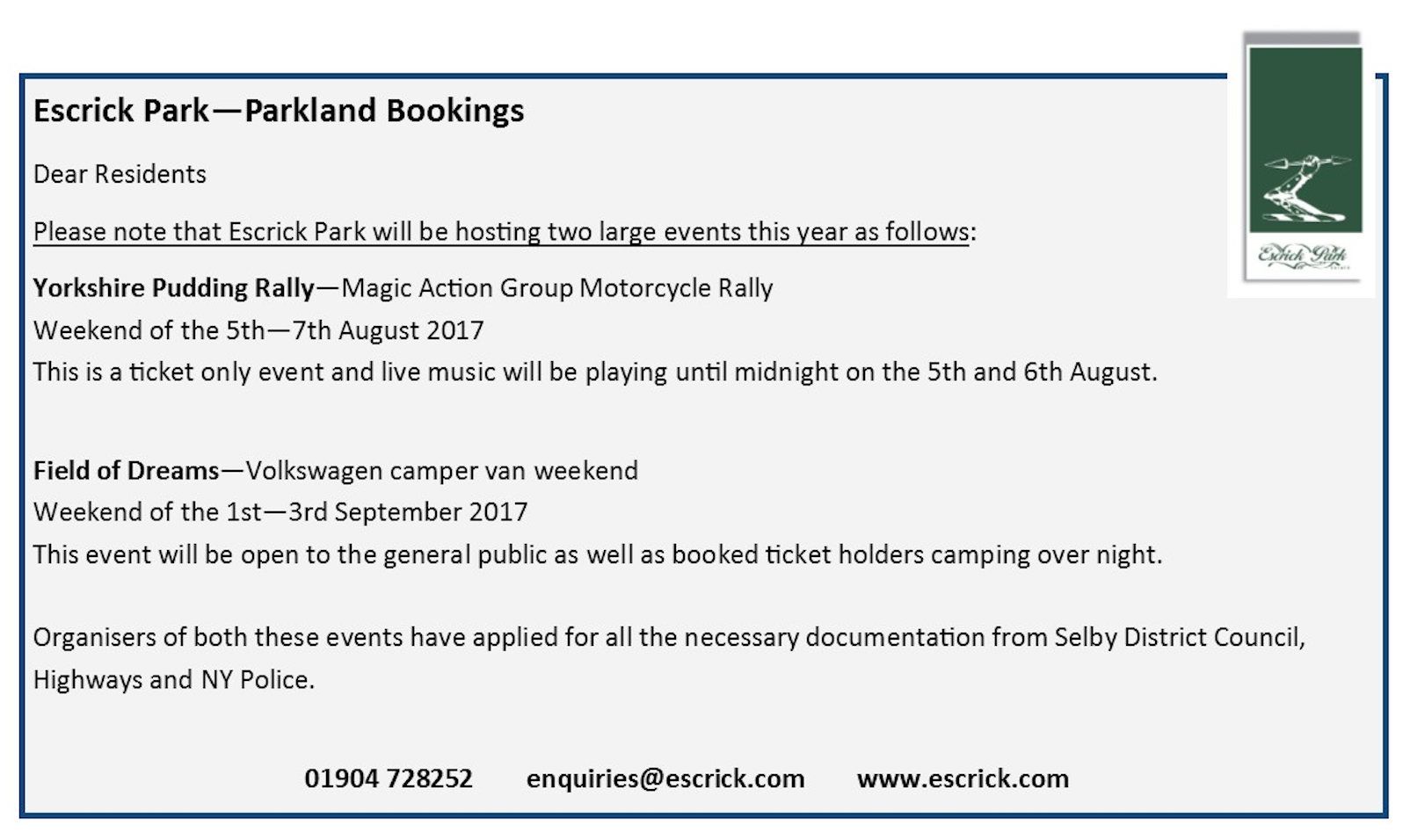 >
Appeal for support from the public to tackle dog fouling
published on 6th Jul 2017
From Selby District Council:
Members of the public are being urged to report dog owners who fail to clean up after their dog has fouled.

The Council's Don't be a Waster – Reduce, Reuse, Respect campaign is highlighting the issue of dog fouling this month by reminding dog owners of the penalties and asking residents to report the culprits.
As well as working with parish councils, schools and community groups to tackle the issue, the Council is also working with the Dogs Trust to host community events to promote responsible dog ownership. The events will take place in Riccall, Sherburn in Elmet and Selby. One has already taken place in Tadcaster.
Free dog poo bags, supplied by Jollyes Pet Superstore in Selby, are being given away at the Council's Access Selby office in Market Cross, Selby and at the Regen Centre, Riccall.
Cllr Richard Musgrove said, "Dog fouling is totally unacceptable. The vast majority of dog owners are responsible and clean up after their pets.
"During July we'll be reminding everyone how easy it is to report someone for not picking up after their dog – and the penalties for doing so. "Failing to clean up after your dog is anti-social, smelly and can spread diseases. There are no excuses for failing to clean up after your dog and if we catch you, we will fine you."
Don't forget – bagged dog poo can be placed in any of the district's 600 plus litter and dog waste bins.
When reporting an offence of dog fouling please think about the following:
Do you know of a dog owner who never, or hardly ever, picks up after their pet?
Do they usually walk the dog at a certain time during the day?
What times are the offences being committed?
Where are the offences being committed?
What does the dog look like?
What does the owner look like?
If the dog owner using a car, what is the number on the registration plate?
Cllr Musgrave added:
"Dog fouling can be tackled by the whole community working together. Some dog owners think that they can get away with not picking up after their pet if they believe they cannot be seen. But as more and more people come forward to report dog fouling offences, irresponsible dog owners may start to think twice about their actions."
It is an offence for a person in charge of a dog at the time it fouls not to clean up its faeces in a public place. Failure to clean up after a dog has fouled may result in a fixed penalty fine of £75, payable within 14 days, or a fine of up to £1,000 if court action is taken.
Residents who witness dog fouling are asked to contact Selby District Council and provide as much information as possible. To report dog fouling, visit www.selby.gov.uk/dogfouling, email info@selby.gov.uk or telephone 01757 705101.
>
North Yorkshire County Council hazardous household waste consultation
published on 6th Jul 2017
North Yorkshire County Council is seeking the views of residents about how they can help you dispose of hazardous household waste in the future.
At present residents are unable to dispose of hazardous wastes at our 20 Household Waste Recycling Centres (HWRCs). Instead the council provides a home collection service, free of charge, for hazardous waste such as white spirit, some paints and paint cleaners; weed killers and pesticide; brake fluid and anti-freeze.
They now need to look at other ways of helping residents dispose of hazardous household waste.
They are asking for your views in a consultation starting on 10 July 2017. The consultation asks questions around a number of potential options for future hazardous household waste disposal services, including:
accepting hazardous household waste at the county's HWRCs to enable residents to dispose of it at their convenience,
charging for home collection services for some or all types of hazardous household waste, ceasing to provide a home collection service for some or all types of hazardous household waste.
The consultation will run until 2 October 2017 and anyone wanting to take part can do so online at www.northyorks.gov.uk/hhwconsultation
>