Sign-up for email updates
You can now sign-up to receive email alerts for notices or changes to our website.
(we won't use your email address for anything else)
Other news feeds
Parish Councillor vacancy
published on 3rd Jul 2017
We have a vacancy for a Parish Councillor .... if you are interested in joining the Parish Council, or would like to understand more - please contact either the chair (Richard Rowson, chair@escrick.org) or the Clerk (Helen Guest, clerk@escrick.org )
NOTICE OF VACANCY IN OFFICE OF COUNCILLOR PARISH OF ESCRICK
NOTICE IS HEREBY GIVEN that a casual vacancy has arisen in the Office of Councillor for the Parish Council.
If by 21 July, 2017 (14 days after the date of this notice) a request for an election to fill said vacancy is made in writing to the Janet Waggott, Acting Returning Officer, Civic Centre, Doncaster Road, Selby YO8 9FT by TEN electors for the said Parish, an election will be held to fill the said vacancy, otherwise the vacancy will be filled by co-option.
If an election is called, it will take place not later than 25 September, 2017.
Dated 3 July, 2017
Mrs Helen Guest
Clerk to Escrick Parish Council - clerk@escrick.org
>
Cawood bridge works
published on 28th Jun 2017
There are traffic restrictions at Cawood Bridge until mid September, and the bridge is scheduled to be closed completely from 24th July to 2nd September.
Traffic restrictions until 24th July, and from 2nd September consist of 6 way temporary lights, with a single lane open across the bridge. From 24th July until 2nd September the bridge will be closed completely to vehicles, cyclists and pedestrians. (This work has been scheduled for the summer holidays to minimise impact on local families).
The 42x Cawood bus services will be diverted via Selby and non-stop along the A19 during the closure running to a revised timetable.
The work is for the installation of the 132 steel plates to strengthen the bridge to permit a 10 tonne weight limit and erection of scaffolding for use in painting the bridge.
>
Private Peaceful - Pick Me Up Theatre
published on 27th Jun 2017
On Tuesday 4 July Pick Me Up Theatre is bringing its 5* production of 'Private Peaceful' to QM for a very special performance in the Chapman Theatre.
York actor, George Stagnell, plays Private Thomas 'Tommo' Peaceful - and everyone he meets in his life - in this poignant, moving and uplifting one-man play adapted by Simon Reade from the much loved novel by Michael Morpurgo.
The author's inspiration from the story came from a visit to the war museum in Ypres where he was intrigued by a typed letter from an Army Captain to the mother of a soldier. In a few short lines she was told that her son had been shot at dawn for cowardice.
Morpugo discovered that this young man was just one of many and at that moment he knew he had to tell their story. The result was 'Private Peaceful' - a book that not only highlights the horrors and futilities of war, but also the joy and wonders of life.
Pick Me Up's production staged recently in York received wonderful reviews and now plays at QM for one night only ahead of it playing at the Edinburgh Fringe Festival in August.
Residents of Escrick are invited to join us. Tickets must be booked in advance by emailing events@queenmargarets.com and cost £5 which will be payable in cash on the door. Tickets are offered on a first come, first served basis.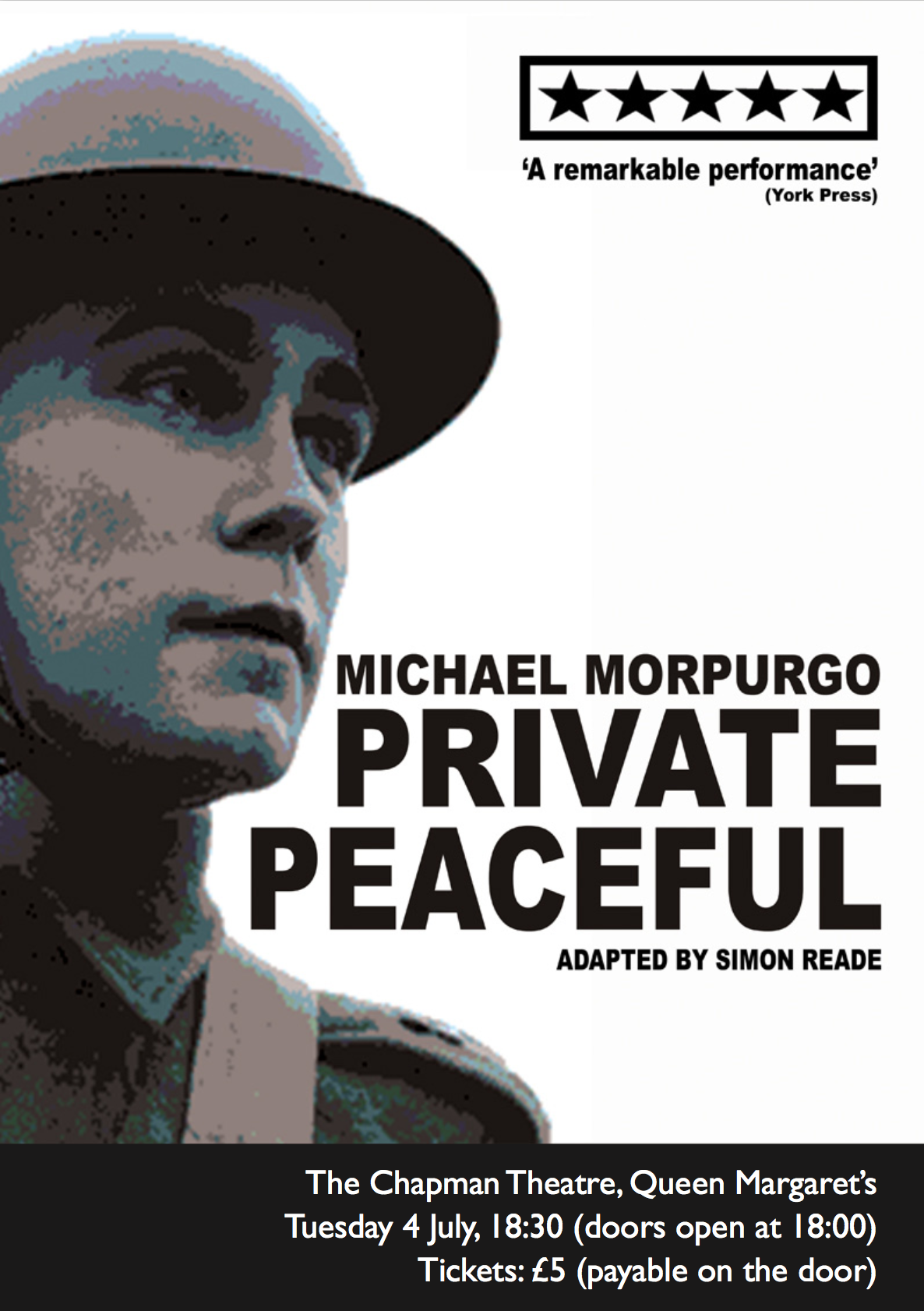 >
Eastern Community Engagement Forum - 6.30pm on Wednesday 19th July 2017
published on 8th Jun 2017
Please find below a flyer promoting the next Eastern Community Engagement Forum meeting to be held at 6.30pm on Wednesday 19th July 2017, at Cawood Primary School Hall.
http://www.selby.gov.uk/eastern-cef-forum-19-july-2017

>
Derwent, Selby and Minster Lions Summer Concert
published on 7th Jun 2017
Saturday 15th July
Reception 6.30pm - Performances commence at 7.30pm
Queen Margaret's School - Escrick
Tickets £12 (includes canapés)
Available in advance only. Call Lion Ken 01904 481265
Email derwentlions@btinternet.com
Or Visit www.lionssummerconcert.yolasite.com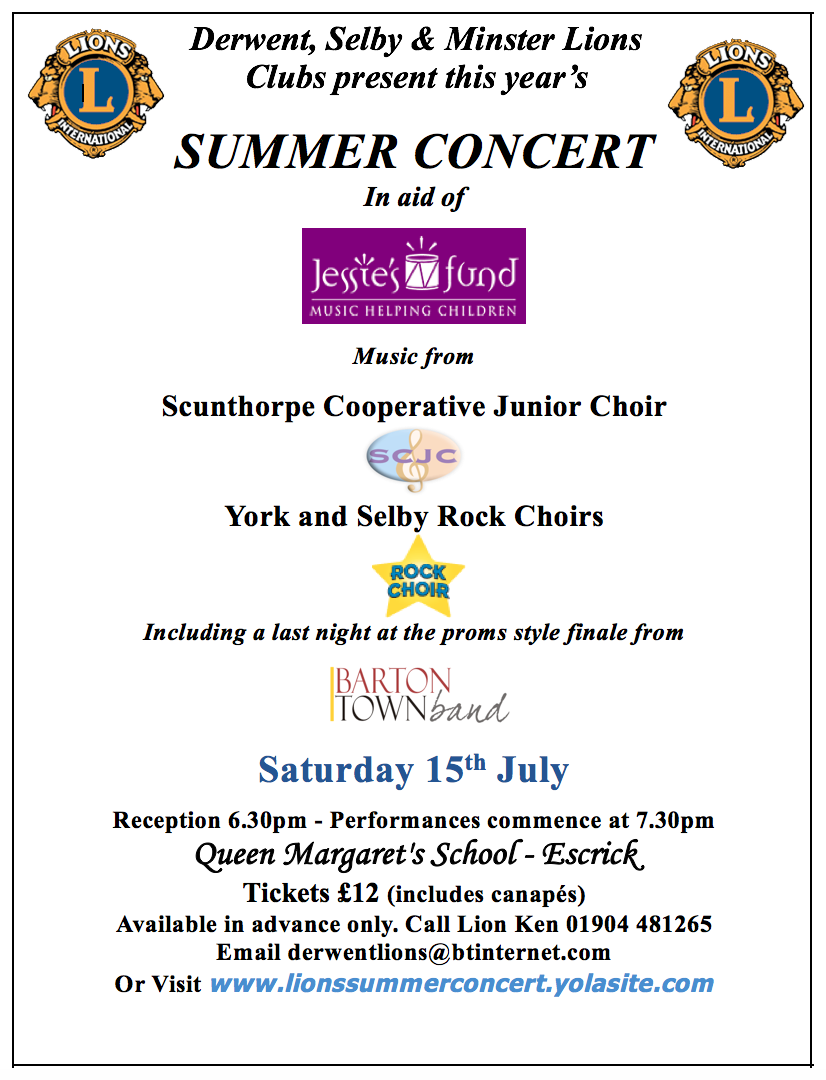 >
Proposals for the extraction of clay and new access road
published on 21st May 2017
Request for an Environmental Impact Assessment Scoping Opinion for extraction of clay, construction of new site access from the B1222, site restoration through importation of inert restoration materials to agriculture and nature conservation afteruse including water bodies, wetland habitats and the creation of public access
The Parish Council would like to make residents aware of the following application for an Environmental Impact Assessment regarding a proposed clay quarry to the west of the A19:
North Yorkshire Fire Service information leaflet
published on 8th May 2017
Please find attached information leaflet from North Yorkshire fire service: Escape Plan press releas.pdf
>
Parish Magazine Update - June 2017
published on 5th May 2017
The following update will appear in June's Parish Magazine:
A19 safety: A site meeting has been held with NYCC to discuss options for improving the pedestrian crossing on the A19. NYCC agreed to investigate the feasibility of crossing improvements.
Neighbourhood Development Plan: The planning working group has started evaluating the feasibility of putting together a Neighbourhood Development Plan. Following a positive meeting with Appleton Roebuck (who have recently developed a plan), the next step is to investigate funding options.
Councillor vacancy: After nearly seven years on the council, Councillor Lamont has stood down, creating a vacancy for a Parish Councillor. Anyone interested should contact the Clerk or the Chair in the first instance (details below).
>
Crockey Hill A19 consultation
published on 2nd May 2017
City of York Council are undertaking a consultation on proposals to improve the capacity and operation of the signalised junction on the A19 to the south of York, at Crockey Hill. The consultation starts on Tuesday 2 May 2017 and closes on Friday 26 May 2017.
St Helen's Church: Lead consultant appointed for 'Legless Knight' project
published on 10th Apr 2017
See attached press release from St Helen's church: