Sign-up for email updates
You can now sign-up to receive email alerts for notices or changes to our website.
(we won't use your email address for anything else)
Other news feeds
The Monday Players presents THE LADYKILLERS
published on 8th Apr 2019
A comedy by Graham Linehan
"The greatest criminal minds of all time…
…have finally met their match!"
The Ladykillers is a classic black comedy; a sweet little old lady, alone in her house, is pitted against a gang of criminal misfits who will stop at nothing.
Posing as amateur musicians, Professor Marcus and his gang rent rooms in the lopsided house of sweet but strict Mrs Wilberforce. The villains plot to involve her, unwittingly, in Marcus' brilliantly conceived heist job. The police are left stumped but Mrs Wilberforce becomes wise to their ruse and Marcus concludes that there is only one way to keep the old lady quiet. With only her parrot, General Gordon, to help her, Mrs Wilberforce is alone with five desperate men. But who will be forced to face the music?
From the Motion Picture Screenplay
by William Rose
By Special Arrangement with StudioCanal & with Fiery Angel Ltd, London
Thursday 16th, Friday 17th and Saturday 18th May 2019 at 7.30pm
The Village Hall, Escrick
Tickets £8
Tickets available from:
Monday Players Members
01904 728303
tickets@mondayplayers.com
Further details on the production are available on our website: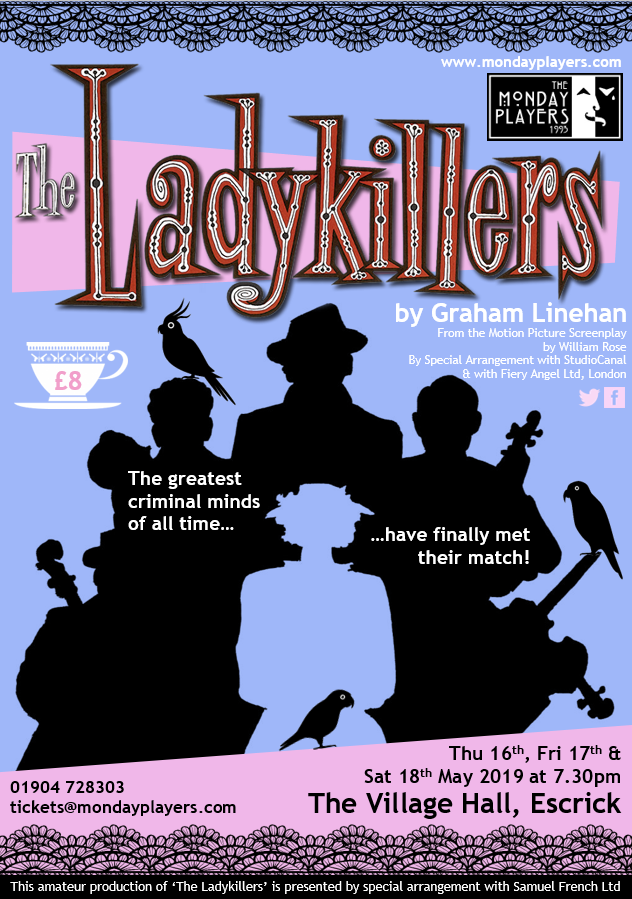 >
Showing notices 1 to 1, of 1
1