A19 / A64 junction improvements
published on 1st May 2015 (updated on 21st Jun 2015)
Improvement works to one of York's busiest road interchanges, the A19 / A64 junction, starts 11 May 2015
Full FAQs and plans are available to view at: www.york.gov.uk/A19pinchpoint
>
Escrick Park Estate Events 2015
published on 15th Apr 2015 (updated on 2nd May 2015)
This notice contains links to documents that may not be suitable for users of assistive technology.
Notices are received from a range of different parties and are not always provided in a format suitable for assistive technologies.
Request an accessible format.
Please see attached list of planned events from Escrick Park Estate:
Escrick Park Estate Events Calendar
>
Monday Players - The Odd Couple
published on 14th Apr 2015
The Monday Players are pleased to announce that David Lane will direct our next production of the female version of The Odd Couple. This production will be performed 'in the round'.
The Village Hall, Escrick, Thursday 14th, Friday 15th and Saturday 16th May 2015 at 7.30pm.
Tickets are available from all Monday Players members or you can contact Sadie Ashton on 01904 728303 or tickets@mondayplayers.com, www.mondayplayers.com, Facebook: 'Monday Players', Twitter: @MondayPlayers
>
A19 Closure April 2015
published on 13th Apr 2015
NYCC will be continuing the refurbishment of the French drain that runs adjacent to the A19, south of Escrick from the junction with York Rd, south for a distance of 1.1km.
The work will commence on Monday 20th April and is scheduled to be completed by Friday 24th April 2015 (5 working days).
Southbound traffic is to be diverted around York Road past the Hollicarrs, while northbound vehicles will remain on the A19.
For a period of 1 to 2 days, vehicles will be controlled via two way temporary traffic signals within the hours of 09:30 – 15:30.
>
Escrick 10k 2015
published on 18th Mar 2015 (updated on 24th Mar 2015)
The Escrick 10K Committee is pleased to announce that the 2015 run will take place on 16th August starting at 11.00 on the Village Green with the Fun Run starting at 12.30. As usual a BBQ and other refreshments will be available all day for participants, friends and family.
For more details including entry forms, please go to www.escrick10k.co.uk or facebook.com/escrick10k
The event raises more than £3000 for the Playing Fields Association which is spent on new equipment. Volunteers are always needed to make the event a success, so if you could help us, either marshalling on the course or helping around the Village Green, please email info@escrick10k.co.uk or Fiona, fiona@ellwoods.com, 07767 410864.
>
York Road Garage Re-Development 2015
published on 4th Mar 2015 (updated on 7th Mar 2015)
York Road Garage will close on 20th April 2015 and will be closed for approximately 16 weeks, with a planned re-opening of mid-August 2015.
>
Winter Weather Roadshow
published on 4th Mar 2015
Rural Action Yorkshire is hosting a FREE event in the district of Selby on 17th March at Riley Smith Hall, Tadcaster. The event is aimed at parish councils, community leaders, volunteers and residents and will provide lots of information and practical advice on tackling issues related to winter weather. The event takes place from 10am until 3pm, with workshops in the morning, a complimentary lunch and then activities for residents in the afternoon.

There will be support with creating local schemes in rural communities which help vulnerable residents and ideas about how people can keep warm and well in their homes. RAY is working with local partners to bring a range of valuable advice in one place.
Book your place by Tuesday 10th March.
Full details and printable posters are available on RAY's website: http://www.ruralyorkshire.org.uk/project/winter-weather-roadshows
>
Pilates course
published on 22nd Feb 2015
Starts on Sunday 1st March / Escrick village hall 10-11am.
5 week course / mixed ability
All equipment is supplied.
£ 35
Contact helencottingham.pilates@gmail.com to register and book your place .
Or mobile 07717 824122.
>
MONDAY PLAYERS - THANKS TO ESCRICK VILLAGE STORE
published on 14th Feb 2015 (updated on 3rd Mar 2015)
This notice contains images that may not be suitable for users of assistive technology.
Notices are received from a range of different parties and are not always provided in a format suitable for assistive technologies.
Request an accessible format.
The Monday Players would like to express their thanks and gratitude to Trevor and Pauline at Escrick Village Store for their tireless support of the Monday Players over the years. Their contribution to advertising and promoting our productions along with their relentless sales of tickets has always been greatly appreciated.

Consequently, with the closure of the village store, we would like to make villagers aware of the alternative arrangements for ticket sales for the upcoming production of THE ODD COUPLE (FEMALE VERSION) in May 2015.
Tickets will be available from all Monday Players members or you can contact Sadie Ashton on 01904 728303 or tickets@mondayplayers.com
Facebook: 'Monday Players' Twitter: @MondayPlayers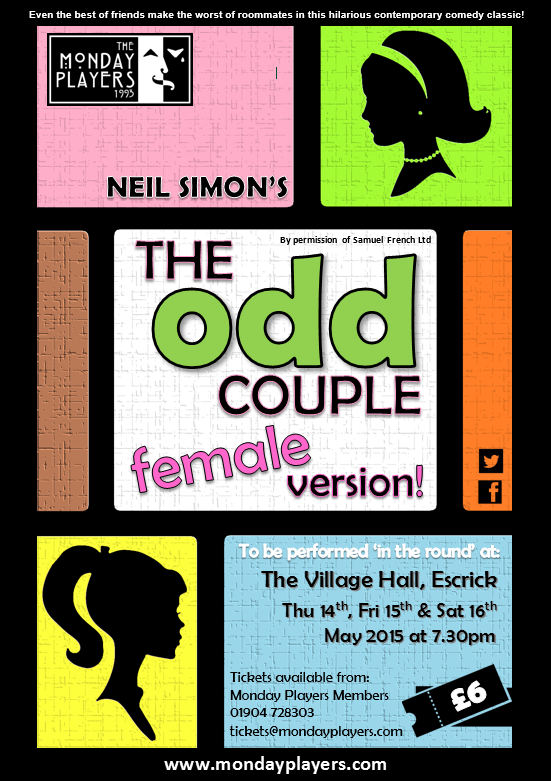 >
Parish Council response to Plan Selby consultation
published on 28th Jan 2015
The Parish Council response to "Plan Selby" consultation has been added to the Plan Selby page
>