Parish Councillor vacancies
published on 19th Jan 2018 (updated on 21st Jan 2018)
We will imminently have two vacancies for Parish Councillors in Escrick - this is good opportunity to get involved, bring new ideas and influence decisions that impact our community.

What is the Parish Council?
The Parish Council is the first tier of local government. It has relatively few responsibilities (i.e. things that it must do) - but has a reasonable degree of flexibility over things that it can choose to do.
In Escrick there are eleven Councillors who collectively make the decisions, and we employ a part-time Clerk (3 days per month) to ensure compliance, manage finances, and provide some administrative support.
What sort of things does the Parish Council do?
We lease, maintain and insure the village green and the playground (with the welcome support of the village green association and playing fields association);
We own and maintain about half the street lights in the village, and those in Hollicarrs Close;
We own and fill most of the grit bins in the village;
We own and maintain the village defibrillator;
We own and maintain the war memorials, Jubilee fountain, and Coronation memorial;
We bought an additional dog waste bin for the footpath east of Skipwith Road;
We lobby the county council on relevant issues, particularly highways;
We make representations on planning applications, the local plans, and other relevant consultations;
We help navigate residents to the right authority when they have a problem or complaint.
We receive our income through Council tax. Councillors collectively decide how much tax to levy, and where it is spent. Currently we raise £19,000 per annum through Council tax, which is spent predominantly on street lighting, insurance, grass cutting, and the clerk's salary. Around 20% of the budget is 'discretionary', for initiatives such as additional street lighting, discretionary maintenance, grit bins, etc.
What is involved? How much time does it take?
We usually have Council meetings monthly (first Monday of the month 7.30pm - 9pm), and there is typically a little bit of background reading ahead of meetings. Most Councillors also get involved in one or more of the working groups or committees. For example:
The planning working group reviews all planning applications in the Parish, and provides feedback to the planning officers at Selby District Council (who are responsible for determining planning applications). The planning working group is also in the process of developing a Neighbourhood Development Plan - which will set out long term guidance for development in the Parish (for example design standards, but also identifying where additional infrastructure or road improvements may be required to support additional development).
We have a working group that coordinates the annual 'spring clean' and 'autumn clean' events
The Admin & Finance committee oversees matters such as letting of contracts (e.g. grass cutting, insurance, etc), HR and general compliance matters
Most current Parish Councillors put in several hours a month in addition to meetings, usually in ways that best leverages their skills and fits in with their lifestyle. Ultimately, we need both good ideas and people willing to help make things happen.
But I'm not retired....
Some people have a stereotype of Parish Councils as a group of old men who have lived in a village all their lives.
Escrick is fortunate in not living up to that stereotype and helpfully has a Parish Council that represents a broad demographic of residents. The majority of Councillors are not retired (some even have young children!), and whilst we do have some long-term resident Councillors, we also have Councillors who have moved to the area more recently. (ps: retired old men are also welcomed!)
The roles of Parish, District and County Councils
There's a common misunderstanding that the Parish Council is the local branch of the County Council - or similar. This isn't the case. Escrick Parish Council, Selby District Council and North Yorkshire County Council are three distinct bodies, with separate roles and responsibilities. For example: highways maintenance and speed limits are a County Council responsibility, bin collections are a District Council responsibility. The Parish Council can make representations to the other authorities, but if you are hoping that by becoming a Parish Councillor you'll be able to reduce speed limits and reinstate weekly bin collections - that probably isn't realistic.
Learn more
www.escrick.org/council/about/ has more details about the Parish Council, along with recent minutes/agendas, budget, and a lot of other background information.
Will I get paid?
No
Do I get elected? Do I need to be nominated?
Generally no. If, as is often the case, there are enough vacancies for all interested parties, then you simply need to express an interest, and usually we can co-opt you onto the Council without an election. If there are more parties interested than vacancies, then slightly different processes apply. In the first instance notify the clerk (clerk@escrick.org) of your interest, and you will be asked to attend the next meeting.
I might be interested...
If you are not sure and would like to know a bit more - feel free to chat to an existing Councillor, or speak with the Chair (chair@escrick.org).
>
St Helen's Heritage Lottery Project Launch Event
published on 18th Jan 2018
To launch St Helen's Heritage Lottery Project, we are holding a 'Launch event' in Church on Sunday 28th January at 4pm. It would be great if you could come along, and please encourage friends and neighbours to come along too.
Come along to …..
Hear all about the Project – what is planned for the building.
Learn about the Scope of the Project, Community Activities and how you can get involved.
Meet the Project Team – including our Heritage Engagement Officer, Michala Pearson and Surveyor and Architect's, Jon Steel and Jamie Holden.
Enjoy a warming bowl of chilli, or vegetarian pasta, with a glass of something
There will be a short presentation at 4.00 pm, followed by food and social. All the family welcome.

An idea of numbers would be welcome but not essential. Please email escrickchurch@gmail.com
Michala has already started putting The Heritage Activities Plan in to action and has got our new Twitter and Facebook accounts up and running. Please do have a look at them and ' Follow, like and Join' as appropriate! Please could you also encourage your friends and family to do the same.
The new Facebook link is https://www.facebook.com/groups/escrickheritage/ or just search on Facebook under Escrick Heritage
On Twitter https://twitter.com/Escrickchurch1
We look forward to hopefully seeing you soon. If you can't make the 28th but would like to be involved, we'd love to hear from you –please do get in touch. Thank you.
>
St Helen's Press Release
published on 12th Jan 2018
This notice contains images that may not be suitable for users of assistive technology.
Notices are received from a range of different parties and are not always provided in a format suitable for assistive technologies.
Request an accessible format.
ST HELEN'S, ESCRICK SECURES MAJOR HERITAGE LOTTERY FUNDING – ESCRICK'S LEGLESS KNIGHT STEPS INTO THE FUTURE
Escrick Parochial Church Council (PCC) is delighted to announce that their "Walking through the centuries with a Legless Knight" project for St Helen's Church is to receive a £471,000 grant from the Heritage Lottery Fund (HLF), thanks to National Lottery players.
With funding now secure, the project will carry out essential conservation work and create a heritage hub bringing to life the interwoven 800 year story of Escrick estate, village and church.
When refurbishing and re-ordering works are completed, the project's Heritage Activity Plan will invite and encourage wider community involvement with opportunities for people to get involved, sharing and investigating stories, designing village trails and learning and developing new skills. The hub will also be a valuable resource for individuals, local schools and interest groups.
St Helen's is a focal point for the local community. It was built 160 years ago – the anniversary of the consecration was celebrated in July 2017 – and cost £26,000 funded entirely by the Lawley family who were the Estate owners, and were the forebears of the Forbes Adam family who own the estate today. Charlie Forbes Adam, the present head of the estate is the project's enthusiastic Champion. St Helen's houses a unique array of high quality monuments commemorating ten generations of the land-owning family, many commissioned from renowned European artists, including Giovanni Tognoli, Bertel Thorvaldsen and Count Gleichen, together with Eric Gill and Fishers of York.
Most notable of all is probably the oldest monument, which is over 550 years older than the present Victorian building. It is the legless stone effigy of a thirteenth century knight, thought to represent Roger de Lascelles, who was once 'Lord of the Manor'. Despite having lost his legs centuries ago, the effigy is acknowledged by the Church Monuments Society to be carved to a very high standard and the weathered details tell us much about the fashion of the time and the precise date when it was carved.
The HLF provides approximately 80% of the projected cost of the project, with the remaining partnership funding already secured from church resources and the much appreciated and vital support of the Friends of St Helen's organisation.
Fundraising will continue as there are some works, such as external lighting, car park and cycle rack upgrading and porch room restoration which are not covered by present funds. Most recently, a welcome donation from the Patricia and Donald Shepherd Charitable Trust has been received to go towards improving facilities for visitors with physical impairments.
QUOTES
Commenting on the HLF Grant, Project Team Leader and Churchwarden, Caroline Wandless said:
"We are overjoyed that the Heritage Lottery Fund is going to make it possible for us to realise our long held wish to upgrade St Helen's facilities, enhance the unique apsidal baptistery and create a versatile heritage hub to ensure a sustainable long term future. We can now work with our professional team: Lead Consultant, Jon Steel; Architect, Jamie Holden of Studio Tamacoco Architects and Heritage Engagement Officer, Michala Pearson to progress this marvellous project during 2018".
The Rector of St Helen's, Rev'd Richard Kirkman was equally jubilant:
"This is wonderful news. St Helen's is open to welcome visitors every day and now the HLF grant will enable us to showcase our remarkable heritage and make the building more comfortable and versatile for both our core worship and for a more extensive range of events to appeal to a wider community."
David Renwick, Head of HLF Yorkshire and the Humber said:
"We are delighted to support this project, which, thanks to money raised by National Lottery players, will mean that more people will be able to get involved with, protect, and learn about the exciting heritage right on their doorstep."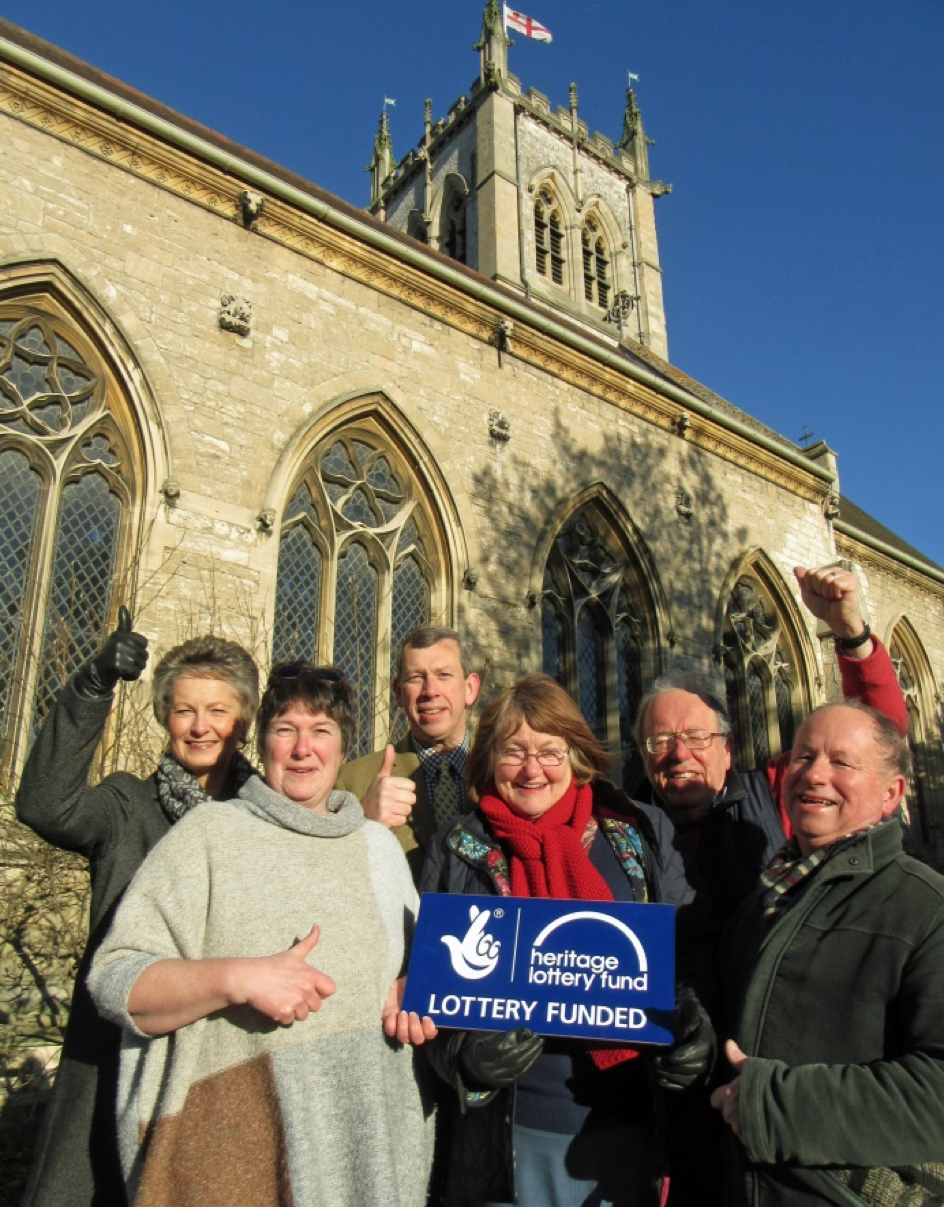 Members of the St Helen's Project Team celebrate approval of the Heritage Lottery Fund grant. They are: front row (l to r): Caroline Wandless, Churchwarden and Project Leader; Christine Mason, PCC Secretary; Rev'd Richard Kirkman, Rector of St Helen's; back row: Judith Luscombe, Roger Wandless and Chris Mason.
NOTES TO EDITORS
The Project Team
The volunteers who make up the "Walking through the centuries with a Legless Knight" project are: Caroline Wandless, Churchwarden and Team Leader; Judith Luscombe; Chris Mason; Christine Mason, PCC Secretary; Steve Smith, Roger Wandless and John Wilson, PCC Treasurer.
About St Helen's Church, Escrick
St Helen's Parish Church of Escrick was built in 1857 and is a Grade II* Gothic Revival building. The Architect was Francis Penrose, Surveyor of St Paul's Cathedral and later President of the Royal Institute of British Architects (RIBA). It sits majestically at the side of the A19, half way between York and Selby. The Church is in the Derwent Deanery within the Diocese of York. The Church is available for all Parish residents for weddings, baptisms and funerals and provides a venue for concerts by local choirs who appreciate the natural acoustic of the building, art exhibitions and school visits. St Helen's generates opportunities for people to feel part of something special, with more than 60 people involved in various volunteering activities from cutting the Churchyard grass, cleaning, helping with fund raising events, flower arranging, editing and distributing the parish magazine to name but a few, St Helen's provides an enduring presence in the community, open to all, and offers a haven of tranquillity and stability in a busy world.
About the Heritage Lottery Fund
Thanks to National Lottery players, we invest money to help people across the UK explore, enjoy and protect the heritage they care about – from the archaeology under our feet to the historic parks and buildings we love, from precious memories and collections to rare wildlife. www.hlf.org.uk. Follow us on Twitter, Facebook and Instagram and use #HLFsupported.
FURTHER INFORMATION
Caroline Wandless – Churchwarden Tel: 07774 461026 or email: escrickchurch@gmail,com
or Chris Mason Tel: 01757 248039, mobile 07715 004346 or email: chrismasonx2@btinternet.com
>
Battle's over - 100 years of remembrance
published on 8th Jan 2018 (updated on 10th Jan 2018)
This notice contains links to documents that may not be suitable for users of assistive technology.
Notices are received from a range of different parties and are not always provided in a format suitable for assistive technologies.
Request an accessible format.
Escrick is considering taking part in the Beacons of Light Tribute on 11th November to mark 100 years of remembrance.
This is likely to consist of a brief gathering and lighting of a beacon.
We would like to gauge the level of interest in attending, please let any Parish Councillor know if you would be interested in attending.
>
Parish Magazine update - January 2018
published on 1st Jan 2018
The following appeared in January's Parish Magazine:
Escrick Parish Council
Parish Councillor vacancy: We still have a vacancy for a Parish Councillor - if you are interested, or would like to learn more about the role, please contact the Chair or Clerk (details below).
Village maintenance: Thank you to everyone who helped with the 'Autumn Clean' event in mid-November, your help was really appreciated. The Parish Council is also working with Selby District Council and North Yorkshire County Council to get several issues relating to pavements resolved. One area where residents could help, would be in ensuring that bushes/hedges do not overhang nor obstruct the pavements.
Budget/Precept: The Parish Council agreed to keep the precept for 2018/19 unchanged from 2017/18 levels. Details www.escrick.org/council/budget2018
Parish Council meeting dates: Monday 8th January, 5th February, 5th March. All meetings at 7.30pm at Escrick & Deighton Club. Public welcome.
Contact: Chair (Richard Rowson), chair@escrick.org; Clerk (Helen Guest), clerk@escrick.org; Website: escrick.org
>
Queen Margaret's Burns Night Supper and Ceilidh
published on 18th Dec 2017
We invite you to join us for a QM Burns Night Supper & Ceilidh on Thursday 25 January...
We will start our celebrations with welcome drinks from 18:45 and a chance to chat with other guests prior to sitting down for supper in St Margaret's Chapel at 19:15.
The QM Catering Team will be pulling out all the stops to serve a delicious four course Burns Supper with the traditional dishes of Cullen Skink, Haggis, Neeps & Tatties, Aberdeen Angus and Cranachan. We will of course honour the tradition of 'addressing the haggis' and toasting with a wee dram of whisky. After tea and coffee have been served the Aluinn Ceilidh band will strike up and encourage everyone to take to the dance floor. It doesn't matter if you don't know your Gay Gordons from your Flying Scotsman, help will be on hand - enthusiasm is more important than dancing expertise!
The evening is expected to finish around 22:30. Tickets for the event are £35 and this includes all drinks, including wine with the meal and the entertainment. Proceeds from the evening will go to the QM Bursary Fund.
Parents, families and friends of QM are all welcome to attend. To book your tickets please email events@queenmargarets.com.
>
Waste and recycling collections over Christmas
published on 6th Dec 2017
Recycling box collections due on Monday 25 December will be brought forward to Saturday 23 December.
Waste bin collections due on New Year's Day (Monday 1 January) will take place on Saturday 6 January.
Residents will be provided with an additional red refuse sack for their additional waste as they will go five additional days between collections. The red sacks are 90 litres in capacity which is almost half the capacity of a standard wheelie bin.
In order to focus attention on collecting wrapping paper, present packaging, glass and tins, foil and all household plastics (apart from thin film), the Council will once again be suspending green waste collections from Monday 18 December, with collections restarting the week beginning Monday 15 January.
>
Low water pressure / no water - 12th Nov
published on 12th Nov 2017
Yorkshire water are aware of the lack of water supply / low pressure to parts of the village, and are working to restore supplies.
>