Sign-up for email updates
You can now sign-up to receive email alerts for notices or changes to our website.
(we won't use your email address for anything else)
Other news feeds
The Monday Players production
published on 30th Sep 2018
The Monday Players - in our Silver Jubilee year - are proud to present our 50th production...
PAR FOR THE COURSE

A comedy by Peter Gordon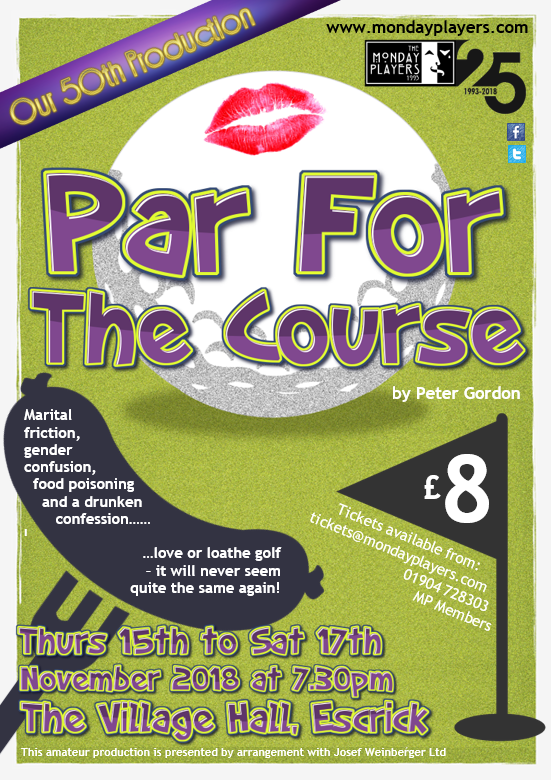 Captain's Day at the Seven Lakes Golf Club gets off to a bad start when the men's Captain is indisposed. Club secretary, Simon, relishes the chance to take over but is soon thwarted by the arrival of Vice Captain, Nick and his girlfriend, Tiffany. Lady Captain, Fran, and enthusiastic but hopeless Barry add to the confusion as a series of disasters mount. With the unexpected arrival of Simon's wife, Laura, tensions build and things go from bad to worse.
Set on the club house patio, the characters soon discover that personal relationships OFF the course are more dangerous than the hazards ON the course!

Love or loathe golf, it will never seem quite the same again!

Thursday 15th, Friday 16th and Saturday 17th November 2018 at 7.30pm

The Village Hall, Escrick
Tickets £8
Tickets available from:

Monday Players Members
01904 728303
Further details on the production are available on our website:
Playwright Peter Gordon was born in York, England. Now a full-time writer, his earlier career as a Chartered Civil Engineer took him as far afield as the Middle East and eventually led him to become Head of Civil Engineering at a UK university.
As a true Yorkshireman, Peter has returned to his roots, living in York with his wife, Janice. In addition to writing, he has a keen interest in music. He considers himself to be a good drummer and an enthusiastic but less-than-adequate guitarist. He is trying to keep his ukulele playing a secret from his friends and family!
>
Showing notices 1 to 1, of 1
1