Neighbourhood Development Plan
Home > Parish Council >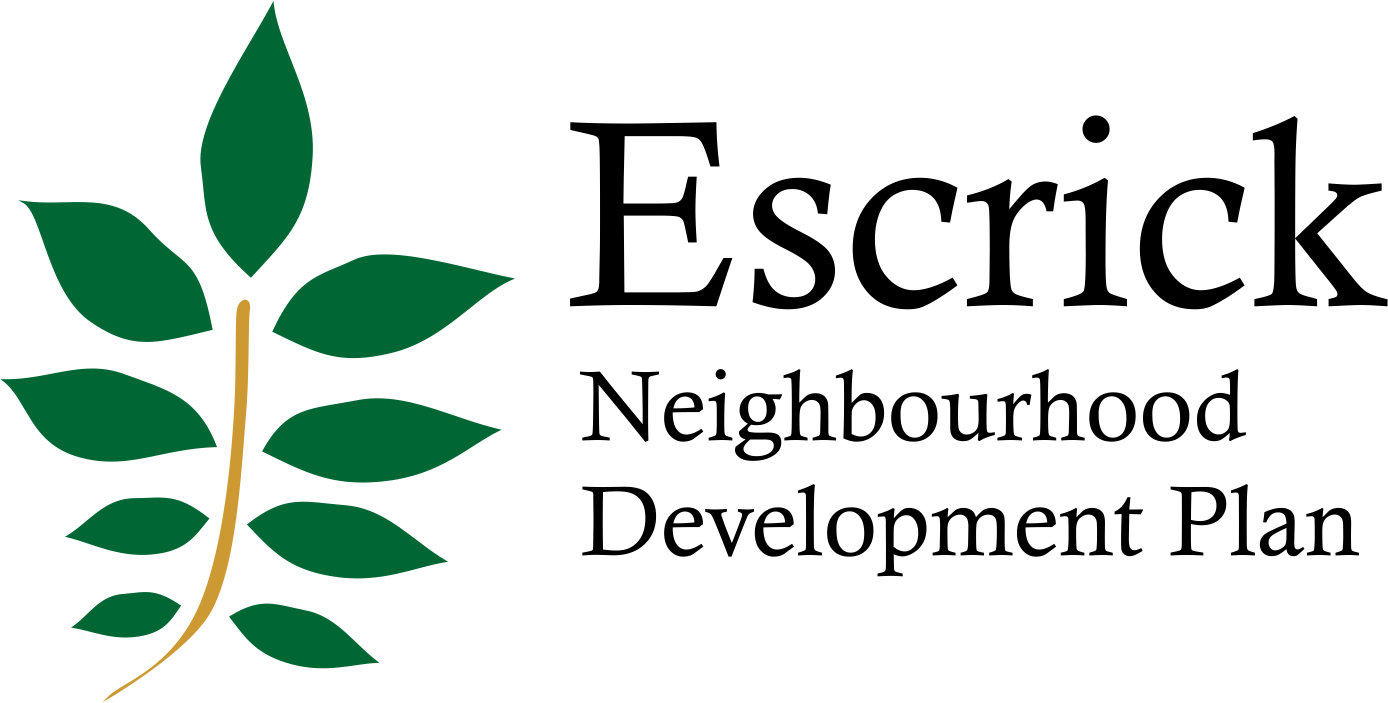 Escrick Parish Neighbourhood Development Plan
Escrick Parish Council is committed to preparing a Neighbourhood Development Plan (NDP) and is part way through the process. The current lockdown provides the opportunity to review what work has been completed / decisions taken to date and look at the next steps required. This is an abbreviated version of the paper to the June meeting of Escrick Parish Council.
Background to NDP
There is continued increasing encouragement from both Central and Local Government, the RTPI (Royal Town Planning Institute) and other development and planning led institutions for local communities to prepare their own NDPs, which form part of the statutory development plan process. The coronavirus has in particular emphasised the need for places to be 'fit for purpose' , with the long-awaited report from the Building Better Building Beautiful (BBBB) Commission recommending the National Planning Policy Framework (NPPF) reference the importance of placemaking and the creation of beautiful places. Neighbourhoods, place making and review of permitted development rights to include standards are all called for. The increasing availability of grants aims to encourage Parish Councils to include this work.
The Escrick Parish Council submission to Selby District Council in August 2017 applied for Escrick Parish to be designated a 'Neighbourhood Area' in order to produce a Neighbourhood Development Plan.
The Community benefits of preparing an NDP
The NDP is a legal document and will have the support and approval of the whole community when completed. Planning officers are required to make decisions when determining planning applications that conform with all hierarchical tranches of the development plan, which will include the NDP once adopted, and they would need to demonstrate very special circumstances to make a decision that is contrary to an adopted Plan.
How does our plan fit in with other tiers of local government?
Our planning authority is generally Selby District Council (SDC), with NYCC mainly responsible for waste, mining and education matters. SDC has recently consulted on replacing its increasingly out of date Local Plan (see graphic representation below this paragraph). The replacement Selby Plan is intended:
To provide the opportunity to consider what sort of place we would like Selby to be in 2040. The plan will set out a vision and framework for future growth of the district, identifying where new housing, employment and other development will be located. The Local Plan will also set out policies which the Council will use to determine planning applications and, once adopted, will replace the Selby District Core Strategy Local Plan (2013) and those policies that have been 'saved' from the Selby District Local Plan (2005).
So it could be asked, 'why bother with an NDP then as Selby is doing it', the Localism Act specifically sought to pass power to communities, with Parish boundaries the easiest to justify and explain. Many NDPs have already been adopted throughout the country. Within Selby District, we are one of 7 NDPs of which only that of Appleton Roebuck and Acaster Selby has so far been adopted. The Church Fenton Neighbourhood Plan is currently the most up to date and has just had its Screening Report undertaken and is approaching the pre-submission consultation stage (Reg 14); it is generally this form and content of plan that we will be seeking to emulate. Progress on these and others can be seen at: https://www.selby.gov.uk/arasndp and https://www.selby.gov.uk/church-fenton-neighbourhood-development-plan
Who is doing it?
The simple answer is the people of Escrick, as that's what the plan is about. More practically, EPC is the decision-making body, whose resolutions will decide what the Plan comprises, within the context of Government advice and pertinent legislation.
EPC's Planning Working Group councillors form the main hub of the NDP working group, using their day to day experience of recommending responses on planning applications and Local Plan issues to EPC for discussion and approval. They have been actively working with local residents Eric Hardy and Claire Wulder, although Claire is currently stepping back during the coronavirus due to work commitments. There is also a much wider group of volunteers who have signed up to get involved on an ad hoc basis.
The main current NDP working group therefore comprises the following Parish Councillors: Nigel Bartle (Chair NDP Group), Lilian Coulson, Kevin Moran, Tudor Rees , Terry Chambers and Eric Hardy as a public member.
The aim of the group is to garner local opinion and ultimately convert the feedback received into a NDP document that EPC will consider and modify during the consultation process, before submitting the end product to a local referendum for final approval. This will be the key decision step, to allow adoption of the scheme and then to pass it to the District Council with the 'rubber stamp' of the local community, the overriding concept behind the principle of NDPs.
Integreat Plus was appointed by EPC in January 2018 to advise and assist with the preparation of the NDP. Integreat are a specialist award winning company who are experienced in the work required in the preparation of NDPs on behalf of Parish Councils. Their involvement will be stepped up in the coming period as we start to translate identified issues into policy and design guidance
How are we funding the NDP?
Development of the Plan, use of consultants and activities from information gathering through to local referenda all have a cost. This cost is not intended to be borne by the PC or considered though the Precept, but is funded via the Ministry of Housing, Communities & Local Government.
Based on the original costings, the project still sits within the planned budget, with the exclusion of advanced design codes. Due to the coronavirus, Basic grant funding has now increased up to £10,000 (top ups can be applied for), with Additional funding available for up to £8,000 eligible for various work streams, one of which is design codes. Other technical support is also available.
What have we done so far?
The issues within the Plan have so far been split into 5 areas:
1. Transport and Movement
2. Community and Facilities
3. Housing and Development
4. Economic Development
5. Environment
Drop in sessions relating to all these areas have been held in the Village Hall/Club, surveys have been sent to the whole village, posts have been made on the PC website and various village Facebook boards, and a number of local stakeholders, land owners, local interest groups contacted direct. Some of the meetings have not quite been completed, delayed due to Coronavirus, i.e. a meet with Escrick Young Farmers and the Primary School Governors.
Lots of information and views have been gathered and a considerable effort made to consult and 'reach out' to the village to gain opinions.
As per the public consultation events already held within the village and to accord with the responses received, we said that any development options for the village must respect its size and character, be proportionate, and must not overwhelm its community. The NDP would also be looking for opportunities to set both development standards that protect the character of the village in a positive way whilst also potentially examining options for small sites that may be suitable for development to come forward. Existing areas and sites that warrant protection for a particular use would also be identified.
What do we still need to do?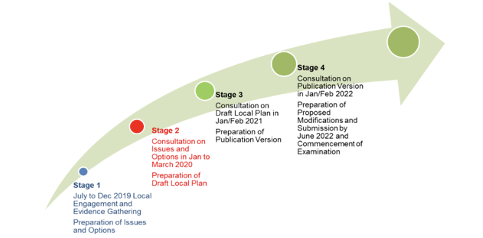 The information gathered needs honing down into firm proposals and a draft report for further consultation. We can then formulate as a NDP Group and Parish Council, following feedback taken from the residents of the village, a final Plan that can be adopted and submitted for referenda. We will use other local recent NDPs (such as that for Church Fenton) as a guide to the format and content to ensure continued acceptability to the local community and compliance with the regulations and good practice.
Lots of information was gathered during the consultation period and we now need to start to pull these responses together as the backbone for our Plan. The NDP group therefore proposes to bring to EPC draft commentary and policies for review in the months leading to year end 2020.
A further detailed design issues document will be presented once the additional grant funding is secured and this is drafted, based on consultations to date, experience from planning application responses, and nationally available design documents. Many organisations, including the RTPI (Royal Town Planning Institute), are particularly concerned that the coronavirus has identified the need for suitable living / home working accommodation and external space standards, with public open spaces available for all. Design standards are therefore as importantly needed in the short term to guide the design and acceptability of extensions to existing properties, as much as for
The NDP group put out a call for sites just as the current public health situation developed.
Understanding that the District council is also running a call for sites programme as part of the development of its plan, and with a shift in the funding available to NDP groups, the Escrick group feels it is better at this stage to allow SDC to identify potential sites, and Escrick PC work on detailed policies and design codes that will reflect the views obtained though the public consultation.
Details of Sites submitted to the Selby process are available publicly and can be found at:
http://selby-dc.maps.arcgis.com/apps/webappviewer/index.html?id=ddbee1b5891b4a1f91359690373a0eeb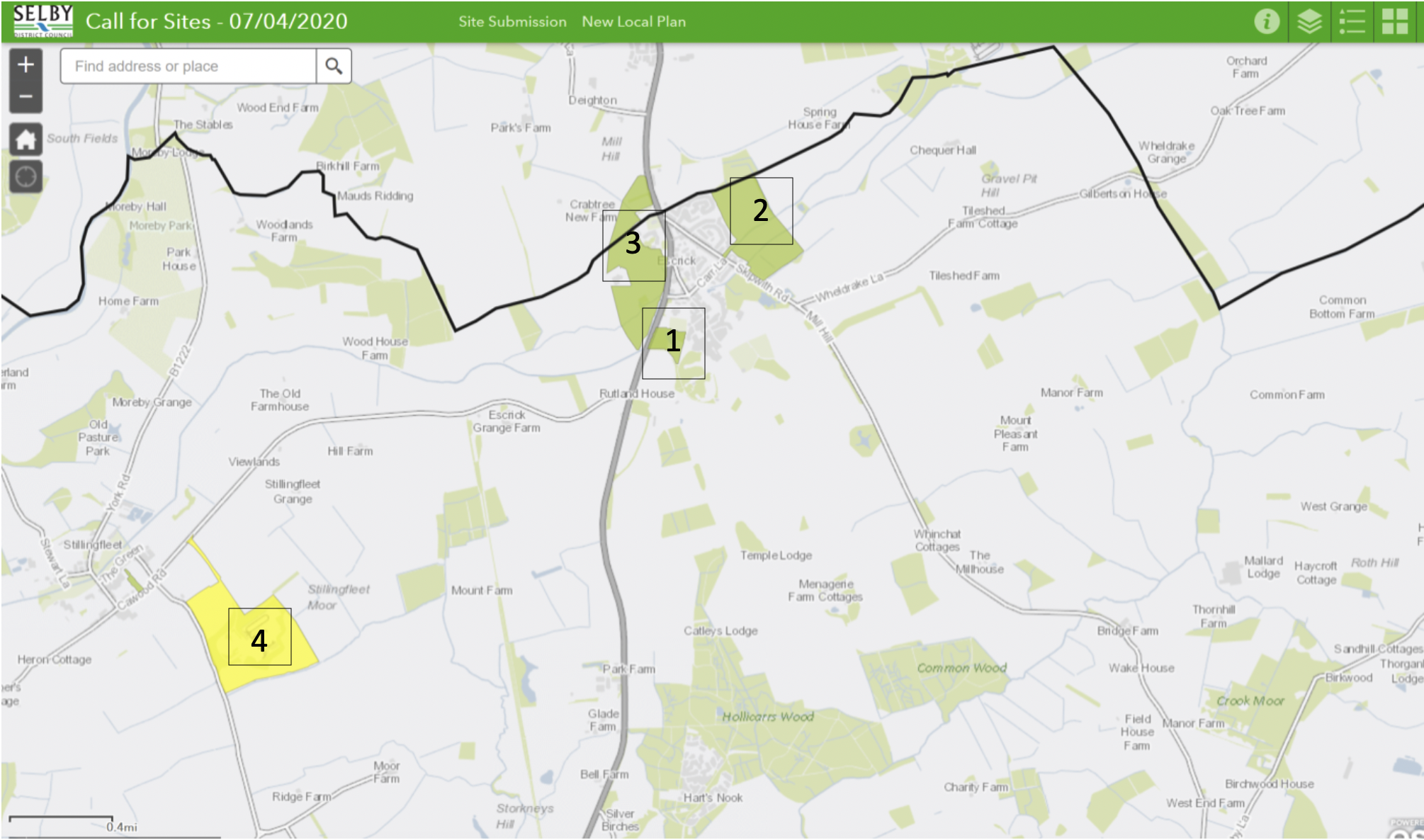 The 3 proposed housing sites in Escrick Parish from Queen Margaret's 2.97 ha (1), and Escrick Park Estate, 18.79 ha (2) and 21.13 ha (3) - also, within Stillingfleet Parish, proposal for use of the mine can be seen 4 – outside this NDP but noted for interest.
So, what is next
The NDP working group will now:
Progress the design and policy section of its work. Some of this already sits within the remaining budget funds. However, the Design Code has become increasingly important, with Government making available additional funds as a consequence. Our consultants will assist in applying for for additional funds for this work.
Progress work on translating each of the subject areas into meaningful text – all work that PC can then review. This process also needs to pull out areas that EPC may wish to consider differently, i.e. issues such as traffic lights on Skipwith Road, Dark Skies policy or environmental work i.e. bat boxes
So the timescale looks like?
The current lockdown situation has created some challenges in progressing meetings, but new ways of working have overcome these to allow sensible progression. There are however some specific pieces of legislation that are impacted by the present Covid-19 situation and this means realistically 2021 is the time for detailed consultation. The group is therefore working to the following broad timeline.