Neighbourhood Development Plan
Home > Parish Council >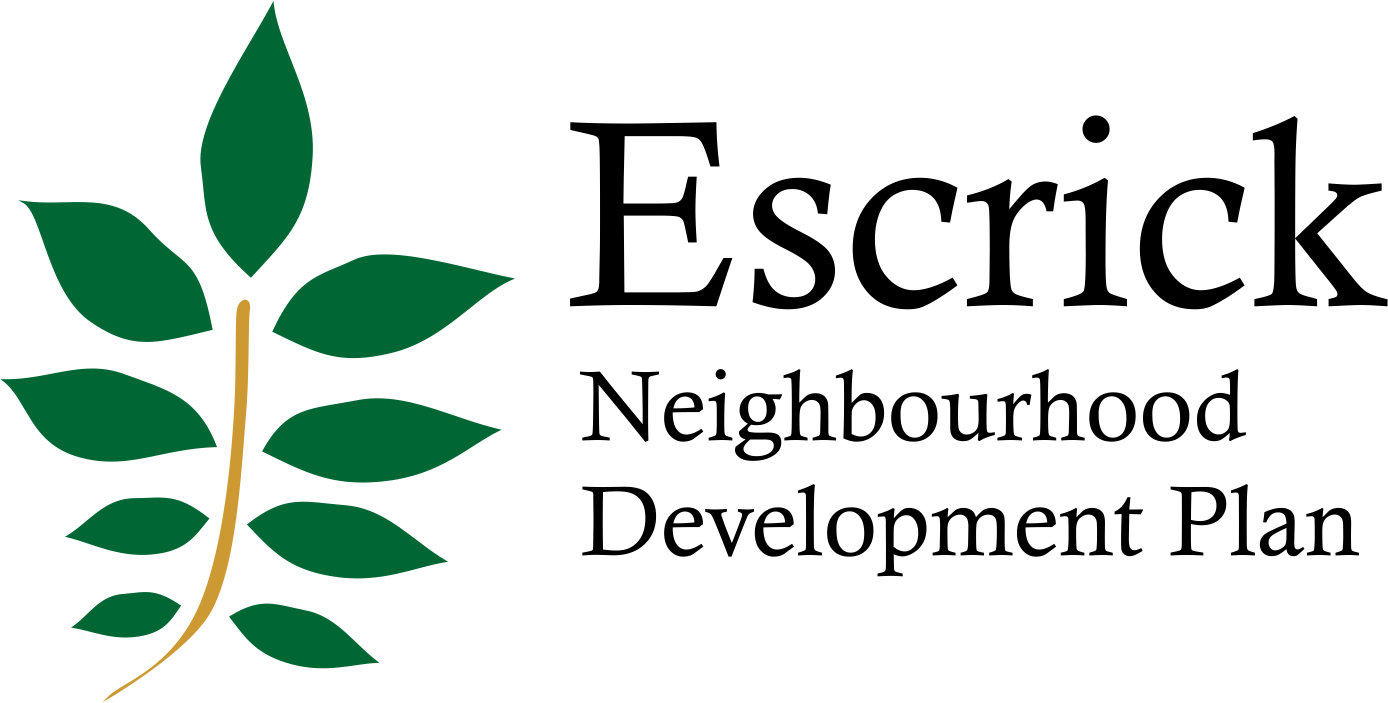 Escrick Parish Neighbourhood Development Plan
Welcome to the Escrick Neighbourhood Development Plan (NDP) page.
Below you can find out more about Escrick's progress on developing an NDP, which will form part of the local planning policy and will influence how Escrick develops over the next 10 - 15 years.
Update February 2020
OVERALL PROGRESS:
The project is currently proceeding on three main fronts; Housing Development, Economic Development and Environment. Community and Transport await final documentation.
HOUSING DEVELOPMENT:
All local landowners approached in October/November, to establish if they would be willing to propose sites for housing or recreational facilities development in the parish for our NDP planning horizon of 2020 - 2035.
Major landowners involved in 1:1 briefing meetings in December; Escrick Park Estates, S Harrison Developments, A. Traves Ltd (via CGA Accountants) Parsonage Hotel and Queen Margarets School.
Smaller landowners involved in 1:1 briefings prior to Christmas.
w/c 6th January – proposal forms sent to all larger land owners starting the official call for sites process.
w/c 13th January – proposal forms delivered to smaller landowners starting the official call for sites process.
Completed site proposal forms are required on or before 20th March.
In the interim we will field queries and have clarification discussions as requested.
We will contact organisations after 4 weeks as a courtesy, to answer any queries and enquire on progress.
First draft of Site Selection Criteria (SSC) that we will utilise is produced and will be updated to a second version after internal discussions.
Public consultation on SSC will take place during February.
A final version of the SSC will be shared with landowners to ensure full transparency
Public discussion of sites nominated for development will take place during March/ April
ECONOMIC DEVELOPMENT:
First draft of policy statement for NDP is under review and will be updated with further comments
Second version will be forwarded to contributing companies for further refinement
ENVIRONMENT:
Village Hall booked for 1st March public drop in session
Event materials being discussed and prepared
Inventory of local wildlife underway by volunteers
Contributors will be; NDP team, Wood Meadow Trust, Selby Bee-keeping Association and Yorkshire Wildlife Trust
DATES FOR THE DIARY:
February – publication of land assessment criteria for discussion
Sunday 1st March – drop in Workshop on Environment
20th March – land nominated for future development identified
March/ April – public consultation on initial land proposals completed
Update October 2019
We have started a process of contacting local landowners in order to start the process of site identification for any future housing development over the next 10-15 years within the Parish. This data is a key input to the Housing Development stream in our NDP.
The note inviting participation, outlining the process and the Parish boundary is attached below for information.
If you are, or perhaps know of someone else who might like to get involved - but has not been approached yet - please call or email us for a chat.
Thanks for your support…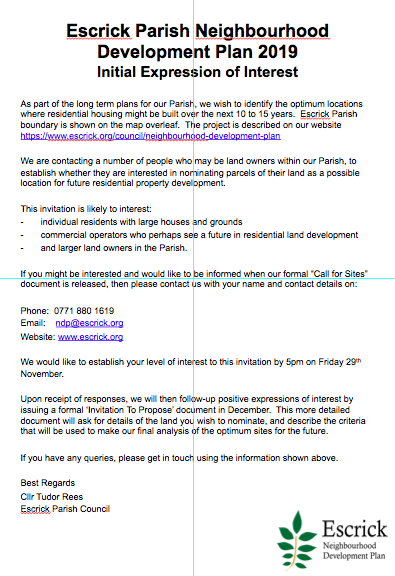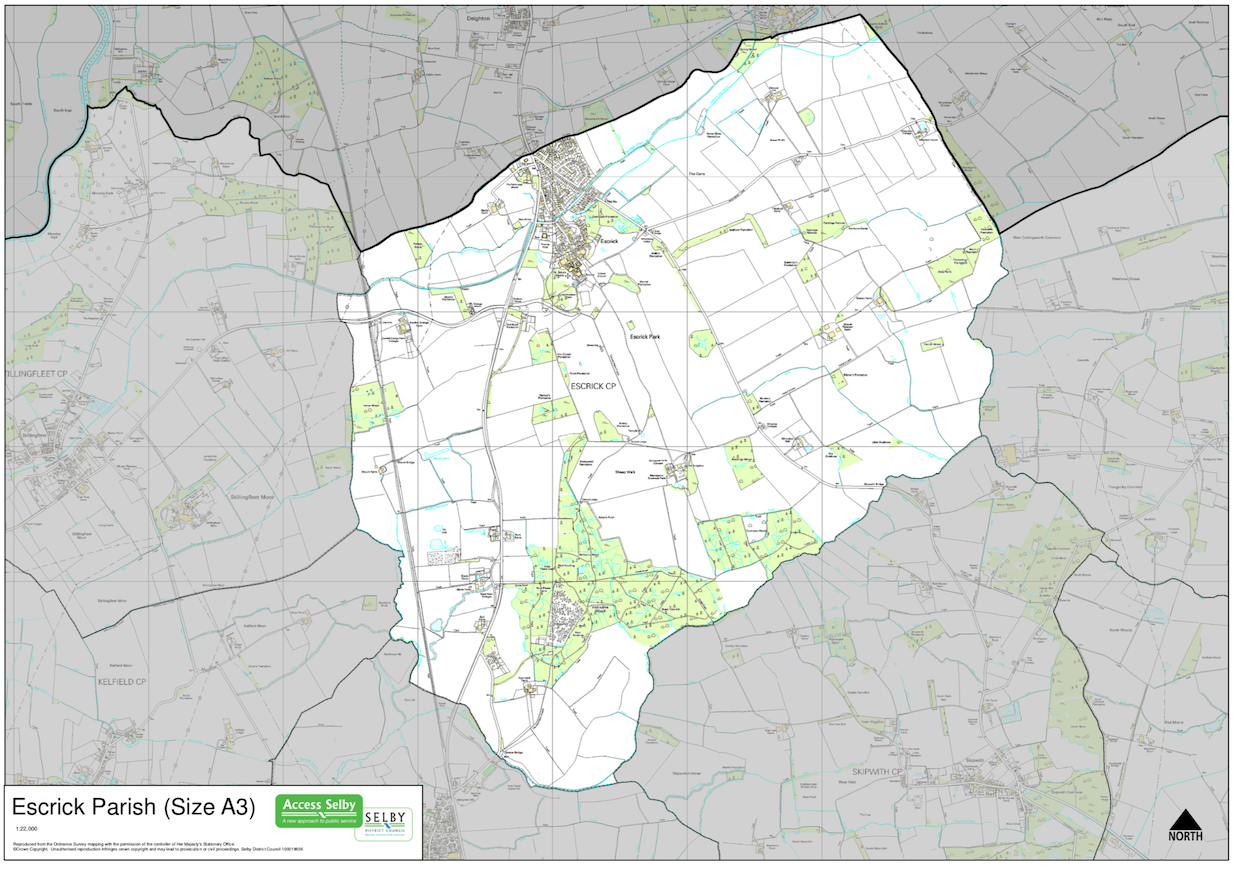 Map of Escrick Civil Parish
Update September 2019
Hello and welcome to the latest update.
In the NDP Parish Survey you highlighted your overwhelming concern about traffic in the village and safety at the A19/Skipwith Road junction. To prioritise this, we have split out the work needed to address this specific issue, from the rest of the Neighbourhood Plan project. In future, we will be communicating progress on this separately from our NDP work.
Creating a Neighbourhood Plan for the Parish, gives us the opportunity to set out how we see the future of Escrick and its environs.
To lead the work in each of the five areas we identified, we have now allocated a key point of contact from within the Parish Council to take the project forward. The contact points are:
Transport and Movement … Richard Rowson
Community and Facilities … Michael Luscombe
Housing and Development … Lilian Coulson
Economic Development … Tudor Rees
Environment and General … Tudor Rees
It is our intention to be contacting those of you who expressed a wish to volunteer earlier in the year, to become involved.
For areas like 1), 2) and 3) we will need to look in more detail at Options, understand the Pros and Cons, and make Choices. We feel the best way to do this is to hold public 'drop-in' sessions.
Our first drop-in session will be in the Village Hall on Sunday 20th October – details to follow. We will be looking for your views on two areas; 'Transport' and 'Communities'. The 'Housing' drop-in will be scheduled later.
For other areas we may only need to send through documents for you to review and comment on, to make progress. The types of contribution you can make fall into two categories:
firstly having your say by reviewing and commenting on NDP documents and actively participating in future workshops and discussions
secondly hands on physical involvement like helping set up drop-ins, meetings at the Village Hall, posting flyers through letter boxes etc.
We look forward to getting you involved with shaping the future of the Parish through our exciting project.
Please contact us if you can volunteer any spare time or if you have any queries at all. Our email address is; ndp@escrick.org
Escrick NP - Next Steps Feb2019.pdf

---
Background
What is an NDP?
An NDP is a plan developed by, and approved by, a "neighbourhood". The NDP is used as guidance to District and County planning officers when making local planning decisions.
It is the most local part of the planning hierarchy. National Government sets overall planning strategy, and targets for issues such as house-building and economic growth. These are cascaded to the various local authorities, which in-turn develop their own local plans. Selby District Council are the planning authority for Escrick Parish, and within Selby District's Local Plan, Escrick is a 'designated service village' – a village with a good range of services and transport links, that can sustain modest additional development. The most recent version of Selby's local plan, targeted the building of approximately 9 – 12 additional homes in Escrick over the next 10 years.
The NDP cannot conflict with the Selby local plan – but can set-out guidance on how these targets should be achieved, whilst highlighting any local issues that might be appropriate conditions to apply to new business or residential developments. For example, this could consider issues such as whether to protect the village boundary and focus on 'in-fill' development on pockets of green space within the existing village boundary, or whether to protect the pockets of green space, and extend the village boundary. It could also highlight any local infrastructure or amenity needs required to support the planned growth.
Recent updates to Government policy have strengthened the role of NDPs.
Who is producing the NDP?
Escrick Parish Council is leading the development of the NDP.
The Parish Council has been awarded a grant to cover the cost of external consultants to support the project.
Following a competitive tender process, we have appointed consultants Integreat Plus (an award winning company with local experience of assisting communities to prepare NDPs).
What area does it cover?
The NDP covers the area of Escrick Civil Parish – i.e. the village and outlying areas.
It is worth noting that the housing allocation in Selby's Local Plan is specific to the village itself, not the wider Parish.
How long will the process take?
It is expected to take up to 2 years to develop and approve the NDP. As at January 2019, we are just entering stage 2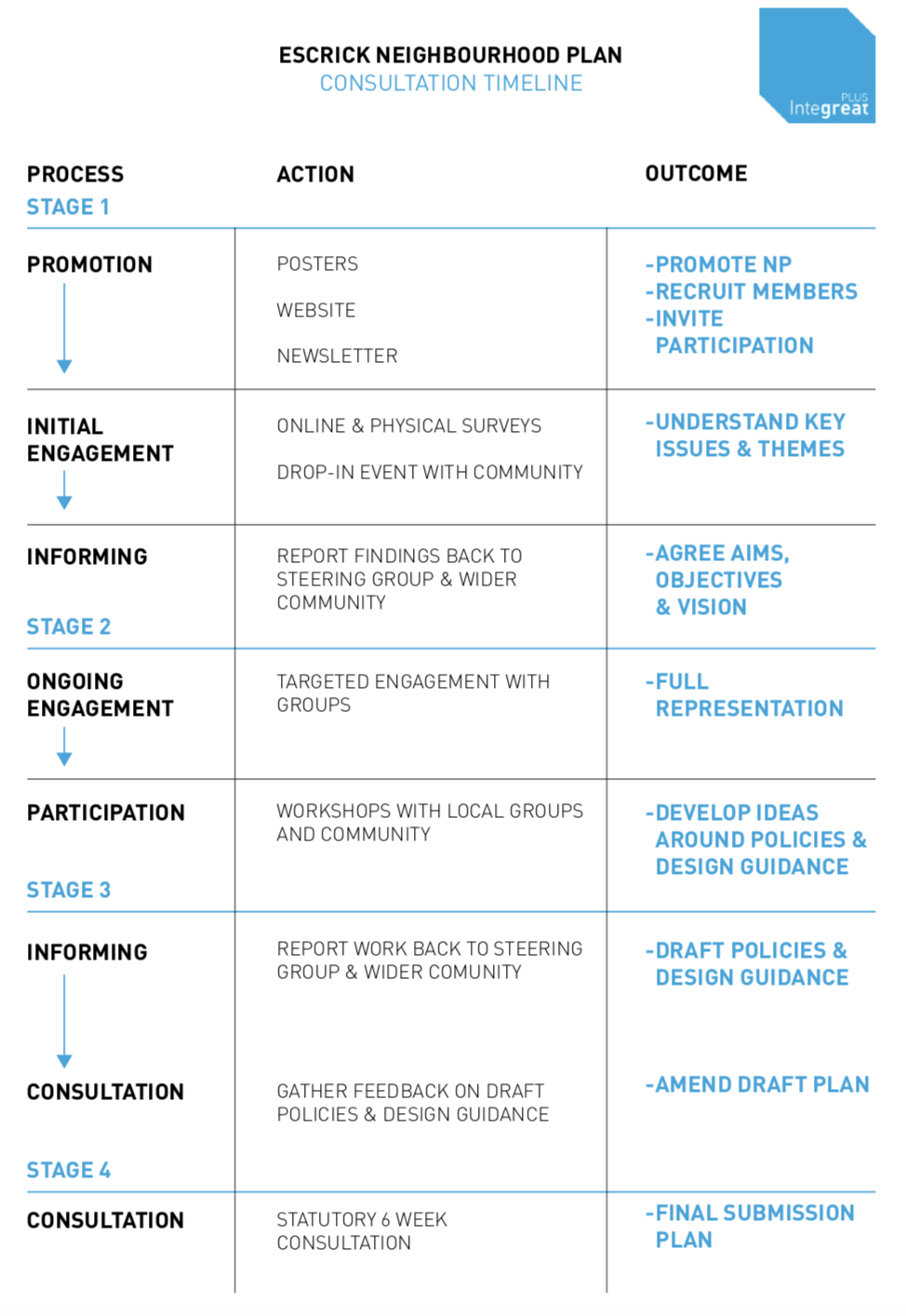 How will you ensure that local views are taken into account?
Local views are key to the NDP – ultimately the NDP will be put to a local referendum for approval.
The NDP project will solicit the views of residents and businesses using surveys, drop-in session, public meetings and social media amongst others.
We will also consult directly with some organisations, for example - where they have a significant impact upon issues raised.
To date we have undertaken two public meetings, and an initial survey of residents and businesses in the Parish.
We received over 100 survey responses - thank you to everyone who took the time to participate. We have worked with our consultants to consolidate and interpret the findings.
Escrick summary of initial engagement results
What stage is the project at?
(as at September 2019)
In Autumn 2017, Selby District Council undertook a public consultation on our request to develop an NDP, and subsequently approved the NDP to go ahead.
In Spring 2018, Escrick Parish Council successfully applied for a grant to cover the cost of consultants to support the project, tendered the work, and appointed consultants to assist.
In Summer 2018 the first public meeting was held, and a small group of volunteers established to support the project.
In September 2018 the first public survey was undertaken.
In January 2019 the results from the survey were used to agree the areas of focus for the next phase of the development of the plan.
The pre-election purdah period put plans on hold during March/April 2019, resuming in May 2019 with a public consultation on A19 traffic light scheme.
In September 2019 our focus has moved on to the other core themes of the NDP
Can I get involved?
Yes. We need your help. There are a range of ways that you can help – ranging from contributing ideas and thought leadership to the plan, through to delivering leaflets and surveys.
You can contact Cllr Tudor Rees at ndp@escrick.org or by phone 07718801619.
Will it really make any difference?
The NDP is a legal document and will have the support and approval of the whole community when completed. Planning officers are required to consider NDP's when determining planning applications – and would need to demonstrate exceptional circumstances to go against an approved plan.
Once Escrick has an NDP approved, it will automatically receive 25% of the 'community infrastructure levy' for developments in the Parish (this is a charge levied upon new developments and some extensions to contribute to the cost of local amenities).
What happens if we don't complete the NDP?
As now, planning decisions would be made by Selby District Council with reference to their local plan. They are still required to consult with the Parish Council on a case-by-case basis, but our response carries less weight than if it was supported by an approved NDP.
Can the NDP be used to prevent more development?
No – to get approved the NDP has to achieve and be consistent with the development objectives cascaded from the Selby local plan – but it can guide upon how best these should be achieved.
Can the NDP be used to address concerns with traffic and the local bus service?
Not directly – but the NDP can be used to highlight areas of concern. Most new developments are subject to a 'community infrastructure levy' to contribute towards certain types of infrastructure need, and some can be subject to specific planning conditions to address specific issues. Having an approved plan highlighting the issues should strengthen the case for investment in them.
Which areas is the Parish Council proposing are used for new development?
The NDP has not yet reached the stage of identifying specific sites, this will come much later in the process. The initial stages will focus more on identifying the types of development preferred (e.g. infill vs expansion) and other key concerns. Later in the process it is expected that there will be an opportunity for landowners to put forward proposed sites, and these can be evaluated against the preferences expressed by you the local community.
Want to keep in touch?
You can sign-up to receive updates from the Parish Council here, or follow our NDP page on facebook: https://www.facebook.com/EscrickNDP/
This page contains links to one or more documents that may not be suitable for users of assistive technology.
We are working towards making all documents that the Council publishes suitable for assistive technologies.
In the meantime you can
request an accessible format.