Neighbourhood Development Plan Home > Parish Council >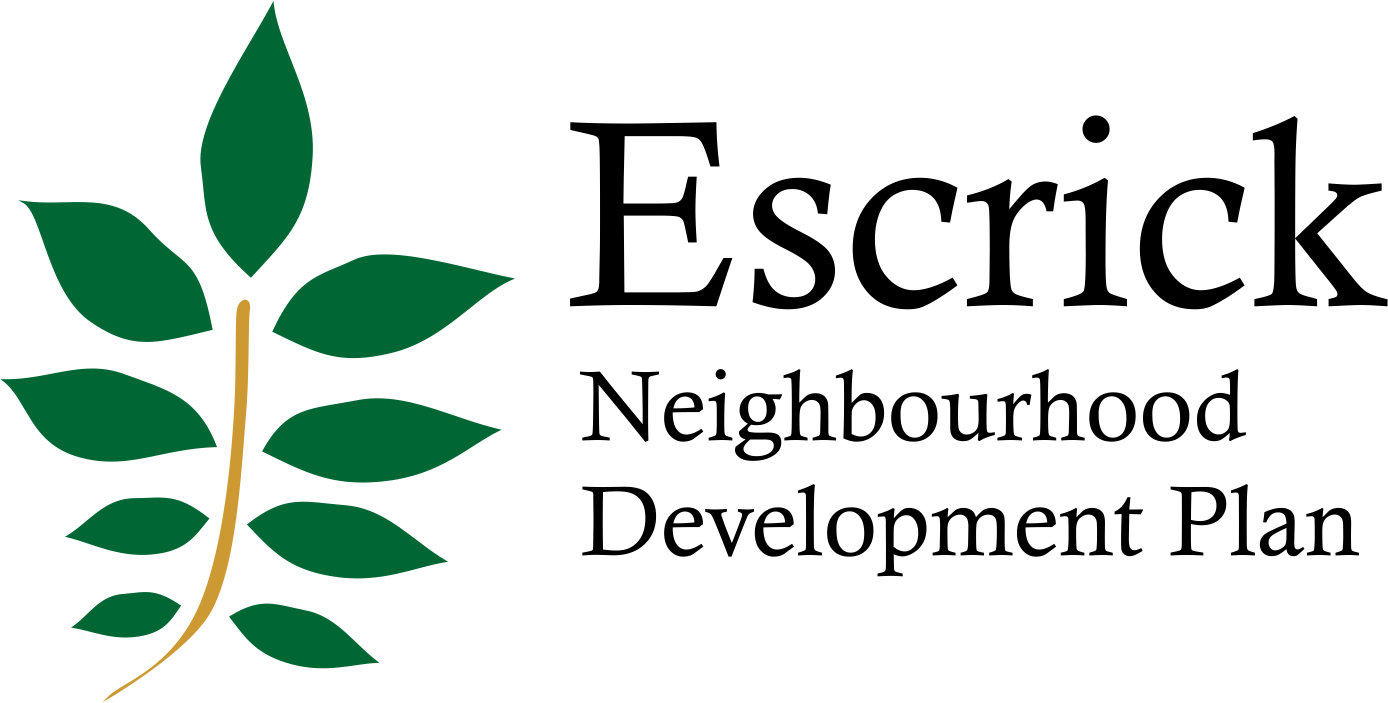 Escrick Parish Neighbourhood Development Plan
Welcome to the Escrick Neighbourhood Development Plan (NDP) page.
Below you can find out more about Escrick's progress on developing an NDP, which will form part of the local planning policy and will influence how Escrick develops over the next 10 - 15 years.
Next steps - February 2019
Thank you to everyone who joined our public meeting in January.
We will soon be starting the next stage of the NDP project. We are now publishing the key areas we are focussing on, under the five "Theme" headings we discussed at our Village meeting on 20th January:
Escrick NP - Next Steps Feb2019.pdf

If you would like to join and contribute to any of the five working groups please respond by email to ndp@escrick.org or any Parish Councillor. We will soon be publishing the dates for further meetings in all five Theme areas.
Thanks for your support
---
Background
What is an NDP?
An NDP is a plan developed by, and approved by, a "neighbourhood". The NDP is used as guidance to District and County planning officers when making local planning decisions.
It is the most local part of the planning hierarchy. National Government sets overall planning strategy, and targets for issues such as house-building and economic growth. These are cascaded to the various local authorities, which in-turn develop their own local plans. Selby District Council are the planning authority for Escrick Parish, and within Selby District's Local Plan, Escrick is a 'designated service village' – a village with a good range of services and transport links, that can sustain modest additional development. The most recent version of Selby's local plan, targeted the building of approximately 9 – 12 additional homes in Escrick over the next 10 years.
The NDP cannot conflict with the Selby local plan – but can set-out guidance on how these targets should be achieved, whilst highlighting any local issues that might be appropriate conditions to apply to new business or residential developments. For example, this could consider issues such as whether to protect the village boundary and focus on 'in-fill' development on pockets of green space within the existing village boundary, or whether to protect the pockets of green space, and extend the village boundary. It could also highlight any local infrastructure or amenity needs required to support the planned growth.
Recent updates to Government policy have strengthened the role of NDPs.
Who is producing the NDP?
Escrick Parish Council is leading the development of the NDP.
The Parish Council has been awarded a grant to cover the cost of external consultants to support the project.
Following a competitive tender process, we have appointed consultants Integreat Plus (an award winning company with local experience of assisting communities to prepare NDPs).
What area does it cover?
The NDP covers the area of Escrick Parish – i.e. the village and outlying areas.
It is worth noting that the housing allocation in Selby's Local Plan is specific to the village itself, not the wider Parish.
How long will the process take?
It is expected to take up to 2 years to develop and approve the NDP. As at January 2019, we are just entering stage 2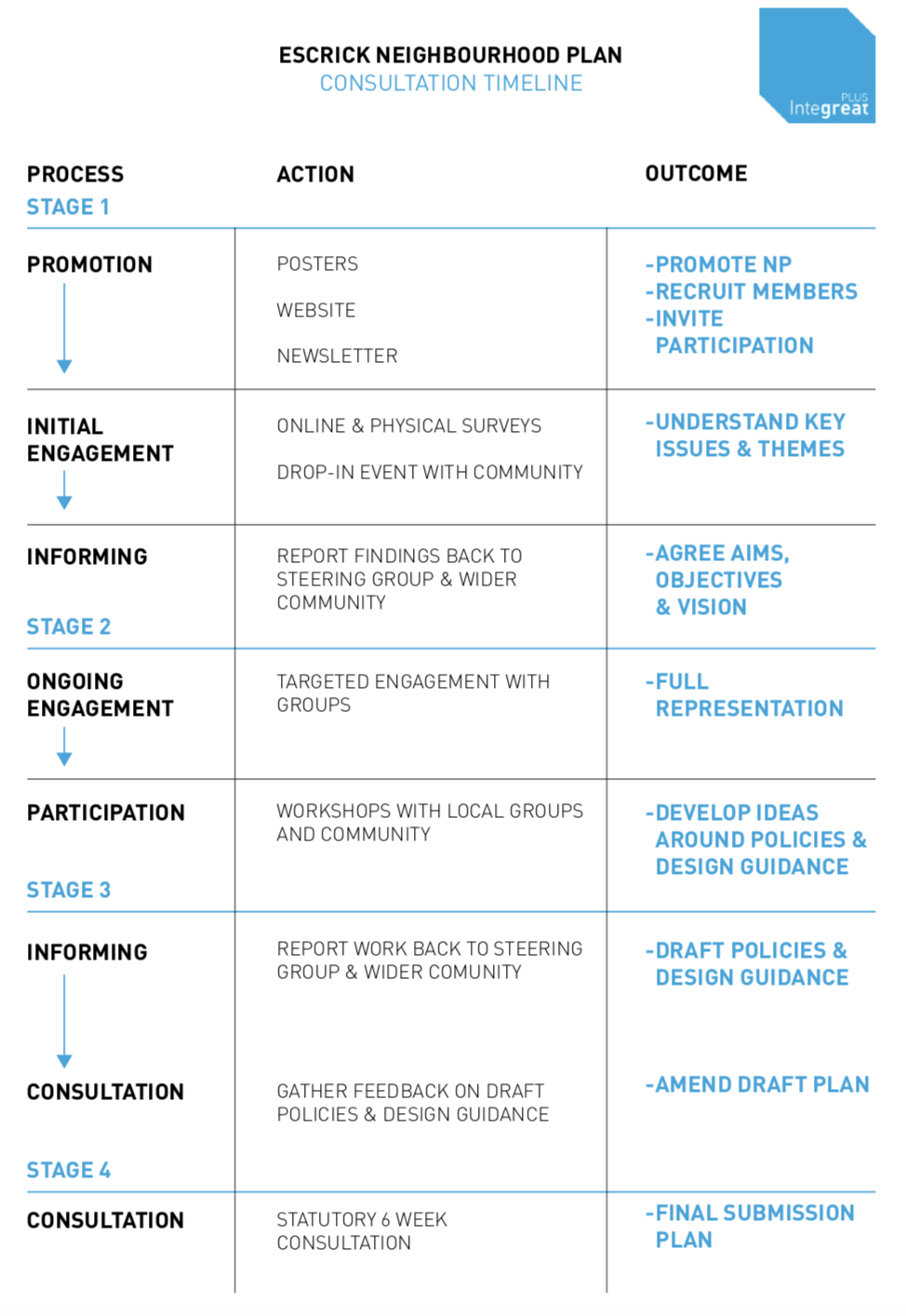 How will you ensure that local views are taken into account?
Local views are key to the NDP – ultimately the NDP will be put to a local referendum for approval.
The NDP project will solicit the views of residents and businesses using surveys, drop-in session, public meetings and social media amongst others.
We will also consult directly with some organisations, for example - where they have a significant impact upon issues raised.
To date we have undertaken two public meetings, and an initial survey of residents and businesses in the Parish.
We received over 100 survey responses - thank you to everyone who took the time to participate. We have worked with our consultants to consolidate and interpret the findings.
Escrick summary of initial engagement results.pdf
What stage is the project at?
(as at February 2019)
In Autumn 2017, Selby District Council undertook a public consultation on our request to develop an NDP, and subsequently approved the NDP to go ahead.
In Spring 2018, Escrick Parish Council successfully applied for a grant to cover the cost of consultants to support the project, tendered the work, and appointed consultants to assist.
In Summer 2018 the first public meeting was held, and a small group of volunteers established to support the project.
In September 2018 the first public survey was undertaken.
In January 2019 the results from the survey were used to agree the areas of focus for the next phase of the development of the plan.
Can I get involved?
Yes. We need your help. There are a range of ways that you can help – ranging from contributing ideas and thought leadership to the plan, through to delivering leaflets and surveys.
You can contact Cllr Tudor Rees at ndp@escrick.org or by phone 07718801619.
Will it really make any difference?
The NDP is a legal document and will have the support and approval of the whole community when completed. Planning officers are required to consider NDP's when determining planning applications – and would need to demonstrate exceptional circumstances to go against an approved plan.
Once Escrick has an NDP approved, it will automatically receive 25% of the 'community infrastructure levy' for developments in the Parish (this is a charge levied upon new developments and some extensions to contribute to the cost of local amenities).
What happens if we don't complete the NDP?
As now, planning decisions would be made by Selby District Council with reference to their local plan. They are still required to consult with the Parish Council on a case-by-case basis, but our response carries less weight than if it was supported by an approved NDP.
Can the NDP be used to prevent more development?
No – to get approved the NDP has to achieve and be consistent with the development objectives cascaded from the Selby local plan – but it can guide upon how best these should be achieved.
Can the NDP be used to address concerns with traffic and the local bus service?
Not directly – but the NDP can be used to highlight areas of concern. Most new developments are subject to a 'community infrastructure levy' to contribute towards certain types of infrastructure need, and some can be subject to specific planning conditions to address specific issues. Having an approved plan highlighting the issues should strengthen the case for investment in them.
Which areas is the Parish Council proposing are used for new development?
The NDP has not yet reached the stage of identifying specific sites, this will come much later in the process. The initial stages will focus more on identifying the types of development preferred (e.g. infill vs expansion) and other key concerns. Later in the process it is expected that there will be an opportunity for landowners to put forward proposed sites, and these can be evaluated against the preferences expressed by you the local community.
Want to keep in touch?
You can sign-up to receive updates from the Parish Council here, or follow our NDP page on facebook: https://www.facebook.com/EscrickNDP/