Parish Council meetings during COVID-19
published on 5th Apr 2020
Parish Councils are normally required by law to meet in person, and to allow the public to physically attend and observe meetings.
"The Local Authorities and Police and Crime Panels (Coronavirus) (Flexibility of Local Authority and Police and Crime Panel Meetings) (England and Wales) Regulations 2020" came into force on 4th April, and has several important impacts:
Meetings can now be held by video conference
Annual meetings normally required to be held by law around May each year are postponed
These regulations came into force too late to allow April's meeting to be arranged as a video conference (as by law we are still required to give 3 clear days notice of the meeting). Therefore, April's meeting is cancelled. However, it is our intention that May's meeting will go ahead as planned via video conference. Details of how members of the public can observe the meeting will be published nearer the time.
We will use May's meeting, amongst other things, to decide the impact upon other Parish Council initiatives.
>
Amended bus service
published on 25th Mar 2020
This notice contains links to documents that may not be suitable for users of assistive technology.
Notices are received from a range of different parties and are not always provided in a format suitable for assistive technologies.
Request an accessible format.
For those key workers and others who still need to travel, be aware the 415 is now running a Sunday service all week:
New bin day
published on 25th Mar 2020
This notice contains images that may not be suitable for users of assistive technology.
Notices are received from a range of different parties and are not always provided in a format suitable for assistive technologies.
Request an accessible format.
Just when you thought nothing else could change - bin day is moving to Tuesdays.
Use your recycling bins from now on.
You can check which colour of bin is being collected each week on our website: https://www.escrick.org/village/bins/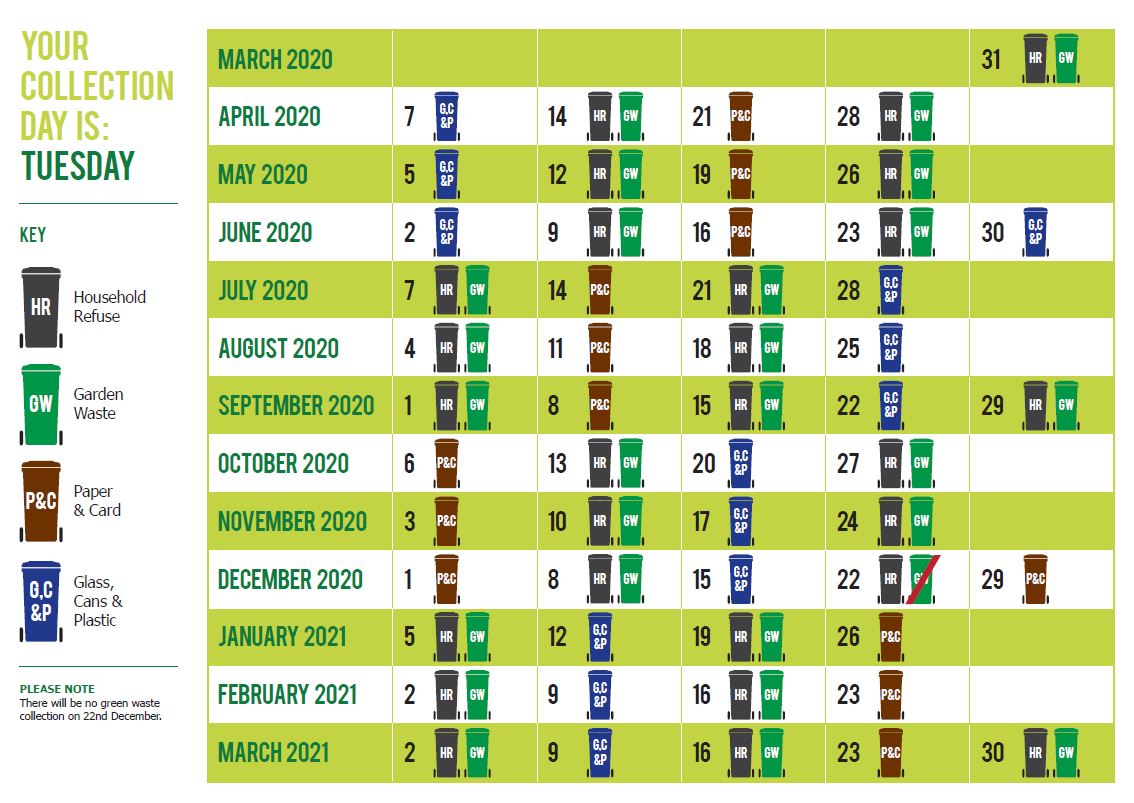 >
Parish Magazine - April
published on 24th Mar 2020
I am very sorry to say, but following the announcement by the Prime Minister last night, we are suspending the Parish Magazine until further notice.
We have cancelled the printing of the April magazines which would have been available at the end of this week. We will keep monitoring the situation and will resume as soon as we are able.
April's magazine is available online instead.
>
COVID-19 : Playing fields and playground
published on 20th Mar 2020 (updated on 23rd Mar 2020)
Playground and playing fields:
In accordance with the Government announcement on 23rd March, the playground is now closed.

>
COVID19
published on 17th Mar 2020 (updated on 5th Apr 2020)
COVID-19
This page will be updated with key local information as it becomes available.
Practical help
Help for people self-isolating:
Over the coming weeks some, if not many, people and/or families in the village will need to self-isolate.
Many will be self-sufficient through family and friends, but others will require support with basic tasks such as delivery of groceries, collecting prescriptions, or walking of dogs.
We have established a volunteer network of over 70 people to assist with this.
If you need help please call any of Caroline 720703, Jan 728741 or Jill 728424 or email help@escrick.org
Please note this is for practical help only, not medical advice or support.
This activity is being coordinated by local volunteers. We will match those in need of support with those willing to help. Thank you to everyone who has volunteered.
If you are able to volunteer
Please let us know here https://forms.gle/PpoVCMs8swyfuEfM7
Local Businesses offering delivery:
Heslington Fresh Foods Ltd (Escrick Business Park)
If you are worried about getting out to the shops for those essential supplies fruit, veg, milk, eggs, bread, leave a message on our answer phone 01904 728905 or email hffltd @ live.co.uk with your name, address and telephone number and we will get back to you to arrange delivery to your doorstep.
N W Parkin & Son milk deliveries : See https://www.facebook.com/NWPmilkdelivery/ (currently unable to accept new customers due to supply limitations)
Morrisons food boxes: https://www.morrisons.com/food-boxes/

Village Facilities / Events
Parish Magazine - is only only this month: https://escrick.org/-/565
Playground / playing fields: Please see this guidance

Village Hall: Closed

Tennis Courts: Closed
Escrick Tea shop suspended
Escrick Club: Closed
Surgery/pharmacy: Open with updated arrangements - best to phone first.
Parsonage, Cloisters Spa & Health Club and The Fat Abbot: closed
Sang Thai: Closed (including for takeaways now, due to difficulty getting incredients)
Escrick Church:
See details here
all Escrick Heritage activities and events are on hold until further notice.
Please feel free to get in touch with Richard our Rector, on 01904 728406 at any time, or if there is anything we can do to help please contact Churchwarden, Caroline on 01904 720703.
Other Information
CONSIDERATION FOR NEIGHBOURS
Please can people be mindful that everyone is stuck at home at the moment (to state the obvious!) - therefore any activities that disturb your neighbours are somewhat amplified. I've had complaints in particular about several bonfires in the village.
RESPECTING THE DESIRE OF OTHERS TO SOCIALLY DISTANCE:
Some people have expressed concern that others are not being rigorous with their social distancing. For example, by delivering leaflets offering help, this could inadvertently be spreading the virus, or concerns that some people are being too sociable when out walking in gassy woods etc. Can I make a few suggestions:
If you are worried about receiving post/leaflets/etc, put a note near your letter box saying so, and I would hope these would be respected;
We are fortunate in having lots of open space around us. At the moment, the social distancing guidance does not say you have to stay indoors, and specifically says "You can also go for a walk outdoors if you stay more than 2 metres from others." Please be mindful of maintaining this.
MESSAGE FROM YORKSHIRE WATER
this is particularly relevant to Escrick which has a 'quirky' sewage network with relatively narrow pipes and relying on pumps and syphons.
Keeping our sewers blockage free: We know it's been really hard to get hold of toilet roll, but it's more important than ever that everyone remembers not to flush wipes and kitchen roll down their toilet.
Please only flush the three Ps – that's pee, poo and (toilet) paper – to help us keep the sewers flowing and stop blockages from forming, which can then cause sewage to back up in people's homes and gardens.
>
Coronavirus update from Selby District Council
published on 10th Mar 2020
This is to update you on the position with Covid-19, otherwise known as Coronavirus.
As you'd expect, all our services are undertaking significant planning to prepare for the impact of the virus, both in terms of the potential impact on our own staff and on our residents and businesses.
We continue to work in partnership with Public Health England, Public Health at the County Council and our local partners to ensure we're working together to manage this challenge. We have a strong track record of working together to deal with significant issues affecting our communities. This partnership approach is being managed through the North Yorkshire Local Resilience Forum.

We're also supporting the government's public information campaign, linking back to nationally-agreed key messages. We'll be talking to staff about how best to protect themselves and the people they come into contact with.

This is an ever-changing situation, with new cases announced daily. We're following the very latest government guidance and will continue to plan and adapt our response as required.

More information can be found at:
https://www.selby.gov.uk/news/media-releases/coronavirus-advice
>
Flood risk update
published on 16th Feb 2020 (updated on 18th Feb 2020)
Storm Dennis: Flood Support Information
published on 15th Feb 2020
We're expecting significant amounts of rainfall over the weekend on ground that's already very wet. Selby District Council have updated the flood support information on their website. Click here for the latest update.
>