Sign-up for email updates
You can now sign-up to receive email alerts for notices or changes to our website.
(we won't use your email address for anything else)
Other news feeds
The Monday Players production
published on 30th Sep 2018
The Monday Players - in our Silver Jubilee year - are proud to present our 50th production...
PAR FOR THE COURSE

A comedy by Peter Gordon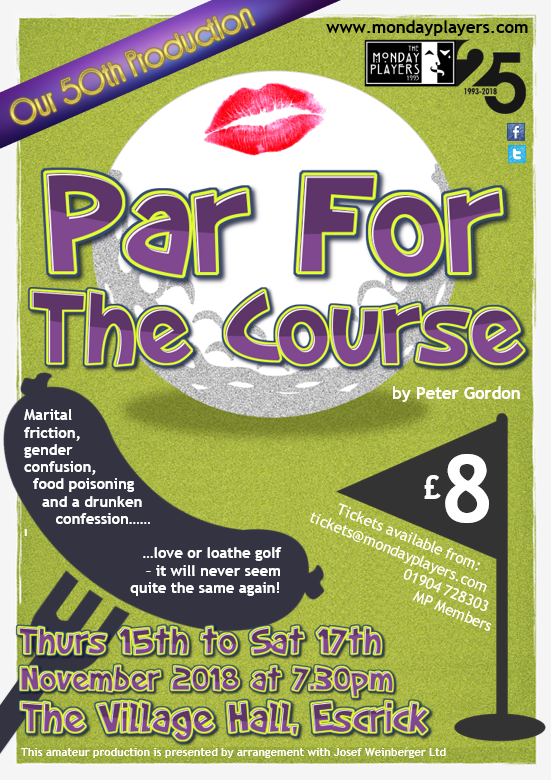 Captain's Day at the Seven Lakes Golf Club gets off to a bad start when the men's Captain is indisposed. Club secretary, Simon, relishes the chance to take over but is soon thwarted by the arrival of Vice Captain, Nick and his girlfriend, Tiffany. Lady Captain, Fran, and enthusiastic but hopeless Barry add to the confusion as a series of disasters mount. With the unexpected arrival of Simon's wife, Laura, tensions build and things go from bad to worse.
Set on the club house patio, the characters soon discover that personal relationships OFF the course are more dangerous than the hazards ON the course!

Love or loathe golf, it will never seem quite the same again!

Thursday 15th, Friday 16th and Saturday 17th November 2018 at 7.30pm

The Village Hall, Escrick
Tickets £8
Tickets available from:

Monday Players Members
01904 728303
Further details on the production are available on our website:
Playwright Peter Gordon was born in York, England. Now a full-time writer, his earlier career as a Chartered Civil Engineer took him as far afield as the Middle East and eventually led him to become Head of Civil Engineering at a UK university.
As a true Yorkshireman, Peter has returned to his roots, living in York with his wife, Janice. In addition to writing, he has a keen interest in music. He considers himself to be a good drummer and an enthusiastic but less-than-adequate guitarist. He is trying to keep his ukulele playing a secret from his friends and family!
>
Parish Magazine Update - Oct 2018
published on 30th Sep 2018
The following updated was published in October's Parish Magazine...
Escrick Parish Council
Neighbourhood Watch: Escrick has not had an active Neighbourhood Watch scheme for several years. North Yorkshire Neighbourhood Watch Association is looking to revitalise its role in the county. If anyone is interested in re-establishing a scheme in Escrick, please contact us (details below) and we will pass on their details.

Autumn clean: Last year we coordinated an 'Autumn clean' in the village as a community event for volunteers to sweep up leaves from public areas after leaf-fall. If anyone is willing to coordinate a similar event this year, please contact us.
Highways: North Yorkshire County Council highways have advised that the requested changes to the speed limit on the approach to the village from Mill Hill into Skipwith Road are unjustified. The Parish Council has received several additional concerns about speed, noise, size and volume of traffic over the summer months – each of which has been passed to North Yorkshire County Council as the highways authority for Escrick.

The Parish Council plans to explore the possibility of appointing a highways consultancy to get an independent expert opinion on the full list of highways concerns regularly raised by residents for this and other locations within the village. We are also exploring the feasibility of getting an additional vehicle activated speed sign, for use on Skipwith Road.
The police camera van continues to be regularly deployed to its designated site on Skipwith Road, and has now caught 207 speeding motorists from 24 visits since the start of the year.
Planning: At the time of writing the planning application for a waste sorting centre at the former Stillingfleet Mine site had been delayed from September's planning committee meeting. The Parish Council strongly opposes the development, and in conjunction with Stillingfleet PC has supported local residents with their objections.

The Parish Council plans to respond with objections to a national Government consultation that proposes allow shale gas exploration using 'permitted development rights' (i.e. avoiding the need for local planning permission). Removing the requirement for planning permission could see any number of exploratory sites established, regardless of their local impact or suitability of the location.
Maintenance: A new picnic table has been procured and installed at the playground. This was funded using S106 'recreational open space' funding paid from local housing development. The village green association are continuing their programme of maintenance work to the pond and village green benches.

Two new street lights have been installed on Carr Lane as part of the continued programme of addressing the darkest spots in the village.
After over a year of requests, City of York Council have finally crown-lifted the large tree on the A19 just north of the Skipwith Road junction, improving visibility at the junction and removing the pavement obstruction.
The Parish Council has received several complaints about overgrown hedges. Where these are obstructing footpaths and overhanging verges the Parish Council has requested the residents to address the concerns, and if necessary can refer the complaints to North Yorkshire highways to take enforcement action under section 154 of the Highways Act. As a guideline trees/hedges should be no lower than 7ft 6 above a footpath, and 17ft above the roadway, and must not obstruct streetlights or road signs. The owner of the tree/hedge is responsible for maintenance.
The Parish Council cannot resolve disputes between neighbours regarding boundary hedges – these should be referred to the District Council.
Vacancies: The Parish Council has two vacancies for Parish Councillors – please contact us via details below if you would like to join the Parish Council.
Parish Council meeting dates: Monday 1st Oct, 5th Nov, 3rd Dec, 7th Jan. All meetings at 7.30pm at Escrick & Deighton Club. Public welcome. Contact: Chair (Richard Rowson), chair@escrick.org; Clerk (Helen Guest), clerk@escrick.org; Website: escrick.org

>
Vacancy – Parish Magazine Editor
published on 17th Sep 2018
Our current Parish magazine editor will shortly be stepping down from the role due to work commitments after a number of years in the post. The magazine covers the Church Parishes of Escrick, Naburn and Stillingfleet. It is very well received and is a fantastic source of information.
Would you be interested please in taking on this voluntary role? It takes about 12 hours per month, 10 or so of which are around the monthly printers deadline of the 10th. If you are happy using a computer and would consider taking it on, we'd love to hear from you. Help and support will be provided…. And if you feel you can't take on the full role, but would be happy to Edit just for one village or section of the magazine, we'd also love to hear from you. If you would like more information please feel free to get in touch as soon as possible on escrickchurch@gmail.com

>
Escrick Neighbourhood Development Plan Survey
published on 16th Sep 2018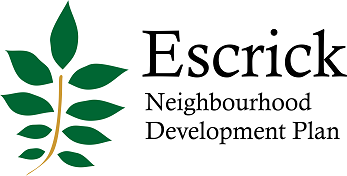 Just a reminder that our Neighbourhood Development Plan survey is open for another two weeks.
We've had some really good feedback from the 50 or so already submitted - but would be great to get more responses. See www.escrick.org/ndp to complete the survey.
>
Selby CEF September 2018
published on 13th Sep 2018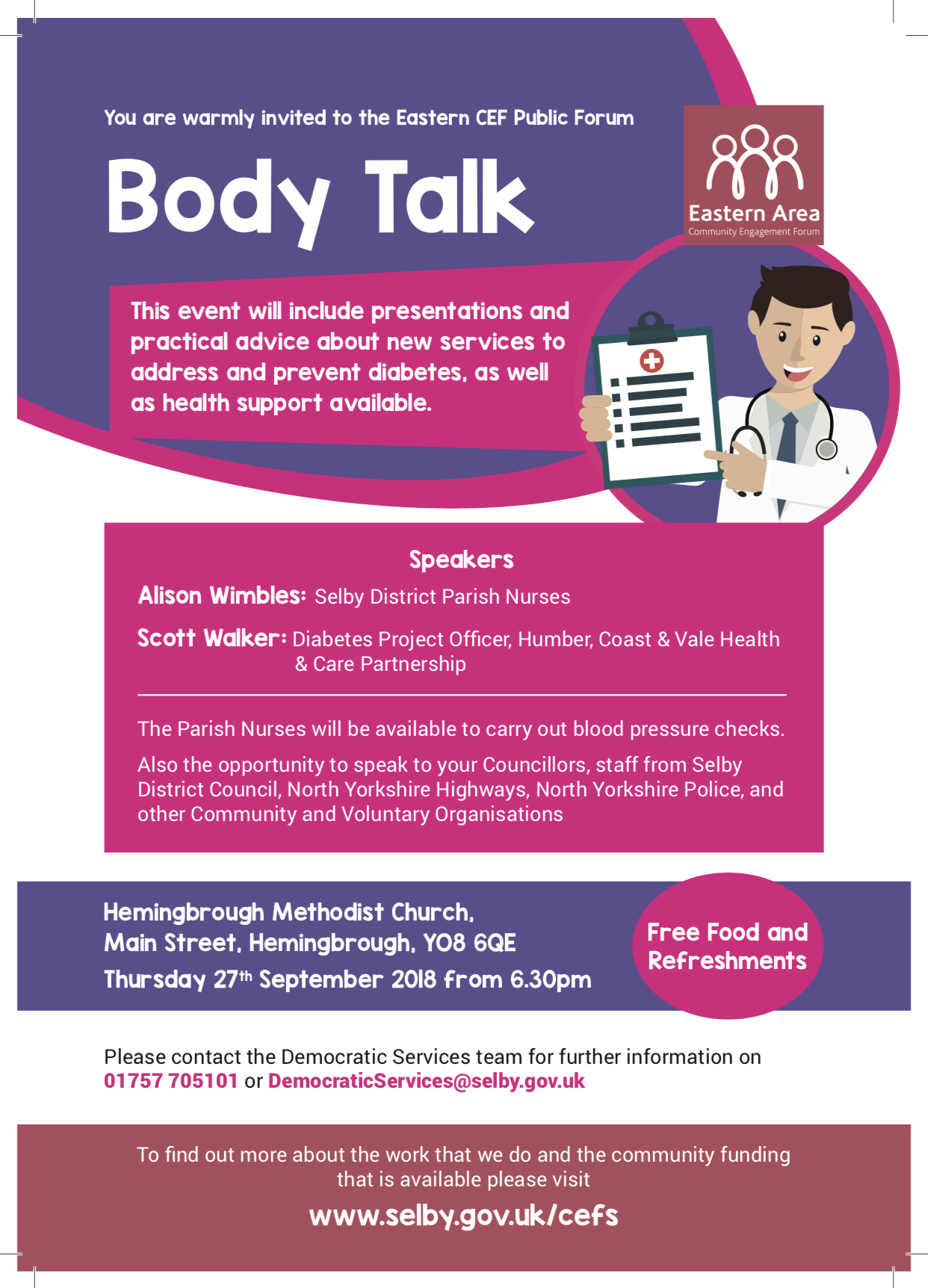 >
WW1 Beacons of light event
published on 10th Sep 2018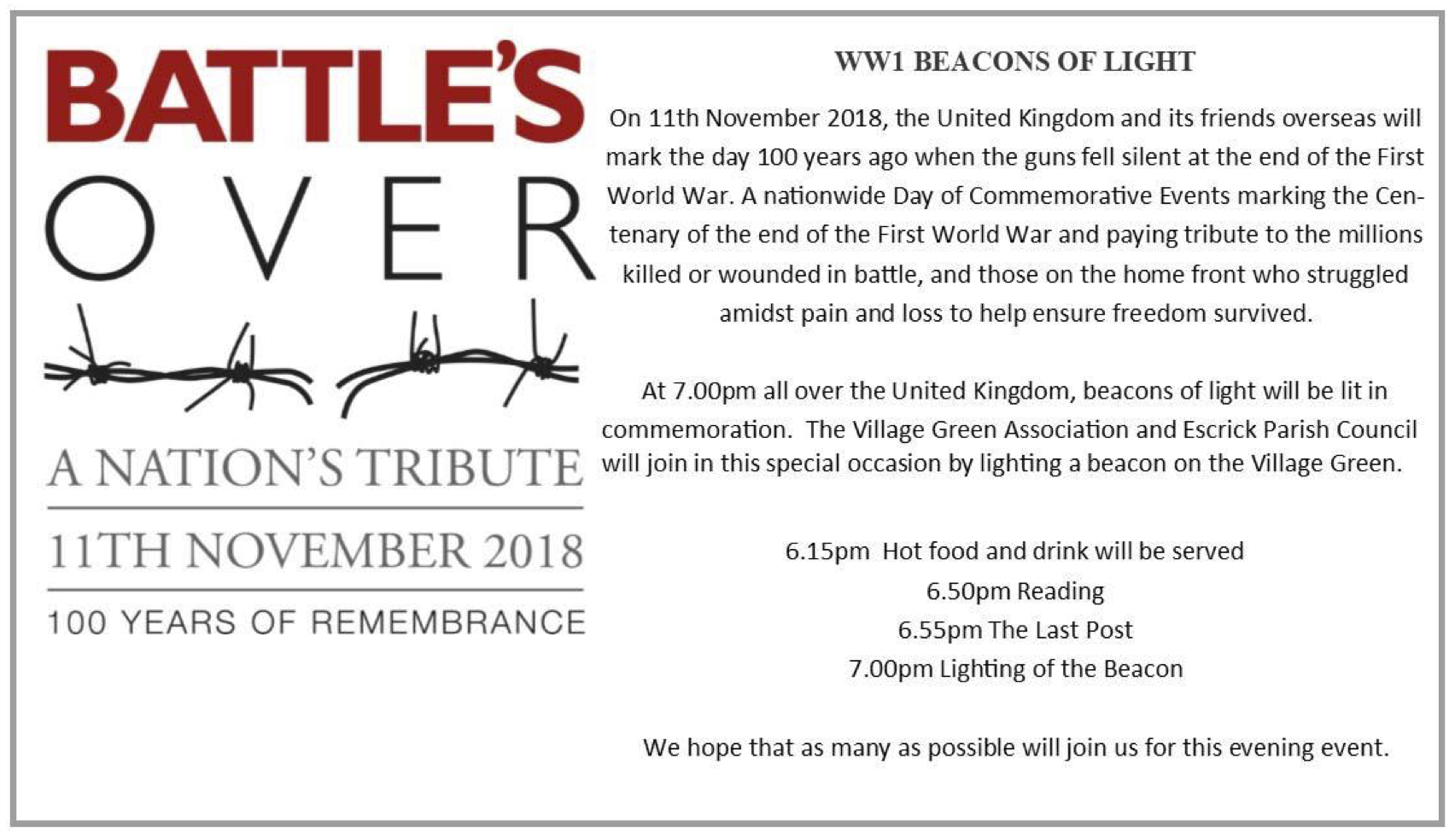 >
North Selby Mine - Leisure Development
published on 7th Sep 2018 (updated on 11th Sep 2018)
Harworth Estates Investments Limited are proposing the potential redevelopment of the former North Selby Mine site to a leisure development comprising of a range of touring caravan and glamping uses, static caravans and self contained lodges with associated facilities.

They are holding a public meeting at: Escrick & Deighton Village Hall on Monday 24th September from 3pm – 6.30pm.
Updated: A link to the relevant planning documents on City of York Council website is here
Many residents will be aware that the site currently has permission for the development of an anaerobic digestor.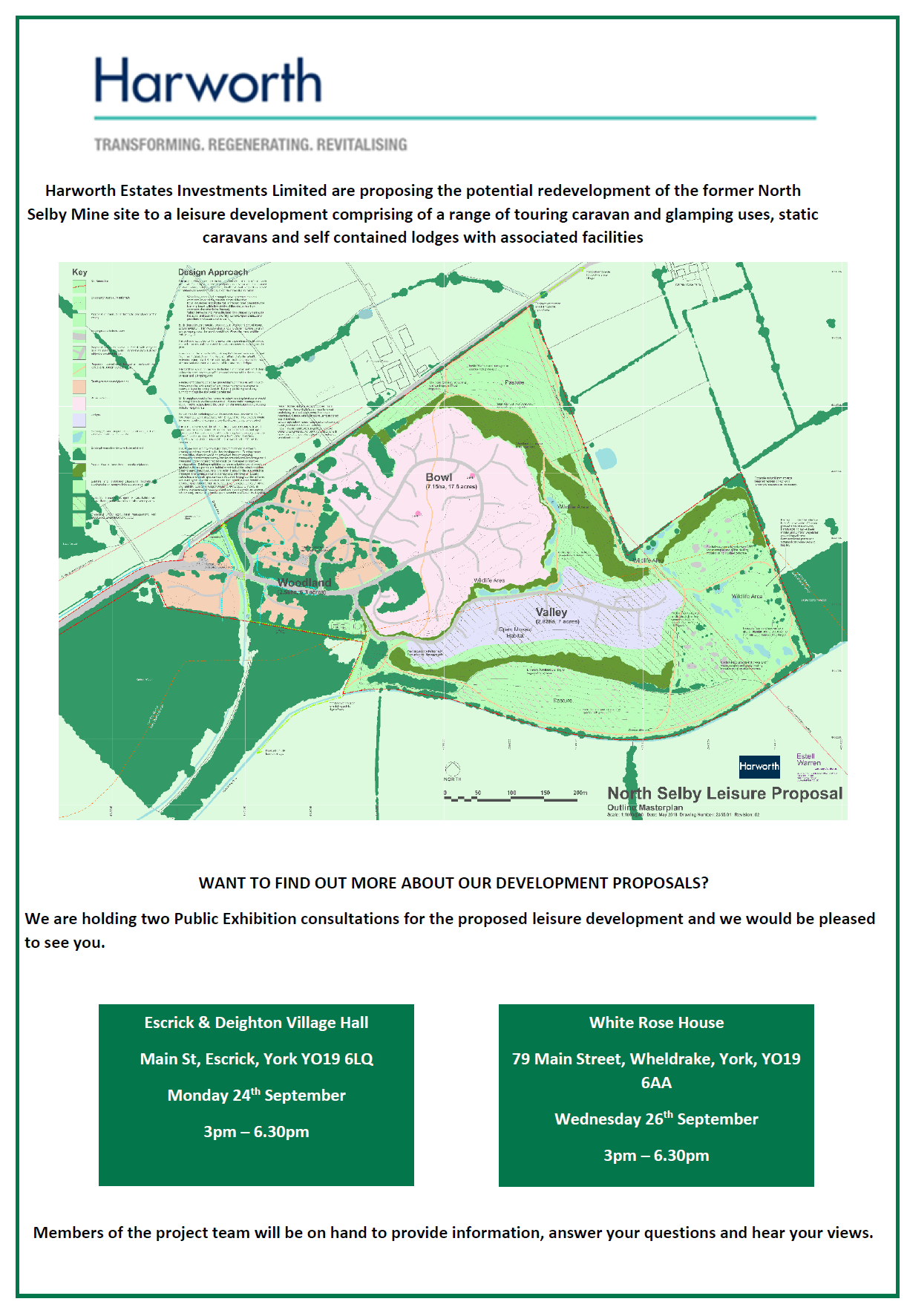 >
Neighbourhood Development Plan Survey Launches
published on 31st Aug 2018
Residents of Escrick Parish are encouraged to complete our Neighbourhood Development Plan (NDP) survey which will help inform the development of the NDP. See escrick.org/ndp to partake.
>
What is happening at Escrick Church - an update
published on 30th Aug 2018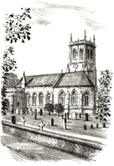 We are making great progress with the Heritage Project. The Heritage Activities are going well with volunteers currently working hard with Michala, our Heritage Engagement Officer, preparing the interpretation panels, recording oral histories, creating our digital archive and preparing for our new website.
The physical building work to the Church starts on 10th September. All is scheduled for completion by week commencing 18th March 2019. The Churchyard will be accessible at all times, for people visiting graves and interments….. and of course Remembrance Sunday.
The inside of the Church however will unfortunately be out of bounds for Health & Safety reasons, mainly due to the extensive scaffolding that is to be erected internally. We discussed with the builder the possibility of using part of the Church for services before March 2019, but they would not know until much nearer the time. The Project committee, in discussion with Richard, decided that it is best to work on the basis that we won't be able to use the Church until March. Even if we did try and have Christmas services in Church, it would be full of scaffolding and the pews may not be in place following the new heating installation. We feel it is better for us to return to Church when it is all complete.
The Parsonage Hotel management have very kindly agreed that we can hold our Sunday services in their Albizia Suite, and our Thursday morning services will be held at 3 Dower Chase.
We are making alternative arrangements for our Christmas Services and concert, and will share details with you as soon as they are finalised. Full details will be in the Parish magazine and on our Facebook page.
We will be having formal meetings with the Builders and Surveyor/Architect/H&S consultant on a monthly basis, and we will be sharing weekly photographs with you to keep you up to date with what is happening. Again they will be on Twitter and Facebook too.
Before 10th September you will gradually see things start to be tidied and moved from Church as we 'empty' Church for the hand over to the builders. We still though have our Heritage Open Day coming up on 8th September and our regular Church services up to and including 9th September. We will try and make the service on 9th September a little special as it will be our last in Church for a few months, so if you can come along it would be great to see you.
It has been a long time coming, but it is now finally happening!!! And all thanks to generous donations, especially FOSH and Heritage Lottery Fund. We are sure the next few months of inconvenience will be very worthwhile come March, when we have our clean, warm, well-lit and accessible building – and we don't have to struggle up the spiral staircase to put the brass away, crawl behind the staircase door for the tea and coffee or navigate the baptistery steps to share coffee after the service.
Thank you all for your patience and please do come along to the services in the Parsonage – it will be the same services, same people but just in a different temporary location.
Feel free to get in touch if you would like more information.
With my very best wishes.
Caroline Wandless, Churchwarden

>
Parish Magazine Update - July 2018
published on 1st Jul 2018
The following notice appeared in July's Parish Magazine
The Parish Council welcomes Darren Calvert to the Parish Council who was co-opted onto the Council at June's meeting. Darren is a long-term resident of Escrick and keen to make a difference for the benefit of Escrick residents, particularly older residents. There are two further vacancies for others interested.
Stillingfleet Mine Waste Sorting Centre planning application - the application was due to be heard at July's planning committee, but has been put on hold at the request of the applicant. The earliest that the application could now go to committee is in September.

Neighbourhood Development Plan (NDP)
Work is underway on the NDP. If you would like more information, or would like to discuss becoming a volunteer, please see escrick.org/ndp, contact Cllr Tudor Rees by email at ndp@escrick.org. or on 07718801619 .

Highways safety concerns
The chair met with highways to discuss concerns regarding the A19 outside the business park. Highways officers explained that the accident record for the location does not meet criteria set by NYCC Councillors to justify a safety audit of the site, therefore no further action would be taken. The Parish Council will make a further representation with more specific accident details.
Speed monitoring data for Skipwith Road (near Wheldrake lane) has been obtained, and County Cllr Musgrave has met with highways officers to understand if a reduced speed limit could be implemented between Mill Hill and the village. Officers are reviewing options.
NYCC highways have agreed to take action regarding the overhanging trees, bushes and ivy outside the Parsonage.
A speed camera van has been deployed twice on the A19 near the telephone exchange in May. No speeding motorists were recorded.
A speed camera van has been deployed on Skipwith Road (near Wenlock Drive) 16 times since the start of the year, and caught 145 speeding motorists (deployments have included weekdays and weekends, and a variety of times of day).
The PC has received various complaints about noisy motorbikes which it has raised with NYP.
The PC will discuss options for procuring a vehicle activated speed sign at September's meeting.

Parish Council meeting dates: No meeting in August, future meetings: 3rd Sept, 1st Oct, 5th Nov, 3rd Dec. All meetings at 7.30pm at Escrick & Deighton Club. Public welcome.
Contact: Chair (Richard Rowson), chair@escrick.org; Clerk (Helen Guest), clerk@escrick.org; Website: escrick.org
>